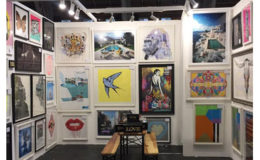 See the highlights that caught our eye at this year's fairs.
From internationally renowned artists to breakthrough talent, artrepublic continues to showcase the most exciting artwork of today as part of a unique collection of framed limited edition and rare prints in our Brighton gallery.
To keep us at the forefront of the contemporary art world, we follow the projects our artists are working on outside of the gallery and attend the most ambitious art fairs and events across the world to keep us in the know so we can continue to bring you the best pieces from a variety of artists.
Read on for our round up of the art world and the world of artrepublic…
artrepublic gallery at Manchester Art Fair
artrepublic brought the essence of the artrepublic gallery all the way to Manchester to take part in one of the biggest art fairs in the UK attracting over 68,000 visitors each year.
We may be biased but we think we had the best stall there…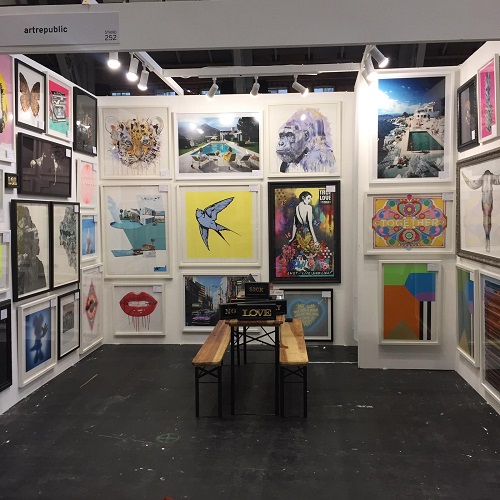 Our exclusive Manchester worker bee print, 'This is the Place' created by Manchester-born artist Elizabeth Waggett created quite a buzz! They are now available to buy in our Brighton gallery.
Pure Evil at Moniker
We weaved our way through walls pasted with collage, graffiti tags and trademark tears by Pure Evil at Moniker Art Fair. It was nice to see Liz Taylor enjoying the show - She hangs out in our Brighton gallery too.
Gary Stranger at Moniker
Gary Stranger presented a collection of clean and sleek monochrome graphic prints at Moniker. 'Ecstasy' continues Stranger's celebration of typography and geometric forms with carefully arranged neon letters made to fit a perfect contrasting clean white circle. Available in our Brighton gallery.
Sir Peter Blake at Paul Stolper Gallery
Peter Blake unveiled a selection of clown originals at the Paul Stolper gallery in his well-known rainbow colour palette. We have a number of colourful pieces by Peter Blake in our Brighton gallery along with this glitter-finished clown which forms part of his 'Reclaimed Icons' series.
Ian Davenport at the British Art Fair
These colourful stripes at the British Art Fair are a taste of Ian Davenport's dynamic painting technique and a larger series by the artist; His huge canvas drenched in household paint was on display at the Royal Academy earlier this year and cemented his status as one of the highly sought after YBAs. We are delighted to have his Colour Splat and Fizz series in our Brighton gallery.
Grayson Perry at the British Art Fair
Grayson Perry's unique aesthetic of clashing, saturated colours and flat, juvenile perspective made an appearance at The British Art Fair but this time in the medium of embroidery. Featuring five Loyalists from East Belfast riding a horse bearing a Royal Crown above a 'Britain is Best' banner.
Grayson Perry's new release, 'Sponsored by You' is now available in our Brighton gallery. A large woodblock print in Perry's distinctive acid colours, the provocative piece targets, "all those people who earn loads of money by doing f*** all," says Perry.
Rich Simmons at Moniker
Part of a series of wordsearch walls which have been appearing around the streets of London, Rich Simmons brought Street Art to the doors of contemporary urban art fair, 'Moniker' with another of his wordsearch stencils. An artist who combines Pop Art with contemporary Street Art, there are a range of Rich Simmons prints available in our Brighton gallery
Euan Roberts at the Walruso Gallery
artrepublic alumni, Euan Roberts took us for a 'Joyride' at his solo show at the Walruso gallery. The now completely sold out show featured a selection of joyfully optimistic prints in Euan's typical bright colour palette. Euan discusses the inspiration behind his work, his love of colour and working for artrepublic in or latest podcast Art Related Noise. Subscribe and listen to our latest episodes.
Interested in any of these artworks? Contact our Brighton gallery on +44 (0) 1273 724829.
artrepublic is part of the history of Enter Gallery, find out more.