As we reflect on the heady highs and laborious lows of 2010, artrepublic in true tradition are putting their best foot forward and boldly naming British talent to watch out for during 2011. So without further ado artrepublic present six sensational artists to watch out for this year.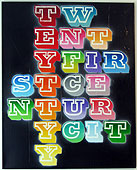 No surprise that Eine has made the list. The latter part of 2010 proved unstoppable when overnight he was catapulted in to the media spotlight when British Prime Minister David Cameron presented President Obama with Twenty First Century City. The piece, which was hanging in our Soho gallery before Eine picked it up caused international speculation and demand for his work rocketed. Rumour has it you will see some big scale work in central London anytime soon.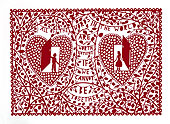 Rob Ryan
Ryan is an acclaimed British artist specialising in papercutting and screen-printing. 2010 was a terrific year, which included two solo shows in London and Stafford respectively. He was personally asked by Lulu Guinness to design a fan bag and made the front page of the Guardian G2 magazine for his Christmas card design. Ryan is showing no signs of stopping with several new projects and collaborations penned for 2011.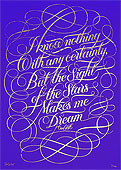 Seb Lester trained in Graphic Design at Central Saint Martin's and is PASSIONATE about letterforms. Lester has created typefaces and type illustrations for some of the world's biggest companies. 2010 saw the release of his stunning limited edition art prints, which are becoming increasingly popular and highly collectible. Plans are already in place to stage a London solo show featuring new work and originals. We will keep you updated on when and where - you will not want to miss it.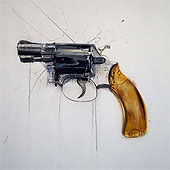 White unveiled his new subject matter in September 2010 with a collection entitled 'Forgotten Alchemy' via a series of exhibitions at the International Liverpool Biennial of Contemporary Art and Art Copenhagen. White has no intention of slowing down anytime soon with a programme of solo exhibitions penned for Zurich, London and Hong Kong later this year. Simply unstoppable.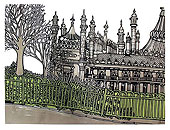 Jo Peel made the 2010 list and continues to be a worthy addition. 2010 saw Peel decorate The Park Bar at Glastonbury festival, and the roof of Cordy House amongst many other installations. Her distinctive line drawings find beauty amongst scenes of urban decay and construction. artrepublic are very excited about hosting a solo show for Peel at the Soho gallery later this year.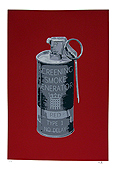 The collection has evolved through the reworking and redistribution of military materials, symbolically transforming instruments of war and destruction into constructive items that embody creativity, peace and critical social commentary. With pieces selling out faster than you can hang them – a renewed artistic attack of contemporary works will be exhibited in London and Kabul, in May.
artrepublic is part of the history of Enter Gallery, find out more.