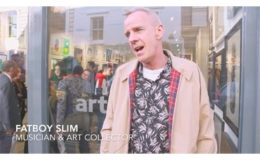 From local events and big-name exhibitions to taking art onto Brighton's streets, here are artrepublic's highlights of 2018.
Typically, as we head towards the end of a year we start to look back at all the things we've seen, done and accomplished over the past 12 months. What were the highs and the lows? What do we want more or less of, and what exciting plans and experiences can we carry with us into the sparkling new year? For artrepublic, this has been a truly special and spectacular year.
Our 25th anniversary year has offered up almost too many gems to mention. Early in 2018 we launched our brand-new gallery area, doubling the wall space at our Bond Street location to bring you even more of the art and artists that you love. And, with that space came a whole new events calendar, featuring monthly activities for kids hosted by our artists, evenings of edition screen printing with The Private Press (and a few more of our artists), and even some live real-life storytelling with Spark. We had a fair few parties too, with bubbles flowing to celebrate exclusive print launches, including an exclusive launch with Mark Vessey, where we were treated to a spin on the desks from legendary Brighton DJ & producer, Fatboy Slim. There were also solo exhibitions from the likes of Bruce McLean, collective showcases – taking in everything from abstraction to our Modern Masters – and even an album launch for drum & bass legend, Friction. And that was just inside the four walls of the gallery itself.
Out in Brighton, beyond the gallery doors, our annual Art Yard Sale had people queuing round the block in the blazing sunshine, all waiting to get their hands on original art, at great prices, direct from the artists themselves. Some of the newest additions to the artrepublic family were there, right alongside some of the gallery's veterans (not in terms of physical age, but in terms of long-held creative friendships) and, wandering among them all, was the host of our freshly-launched podcast, Art-related Nonsense, collecting stories from some of the best in the art business to share with you all. Check the first series out on iTunes.
Elsewhere on Brighton's streets, a little later in the year, the gallery was represented in the Martlets Snail Trail with a design created for us specially by Eelus. Unlike that snail (who was very much rooted to the spot), for us this year has sped by.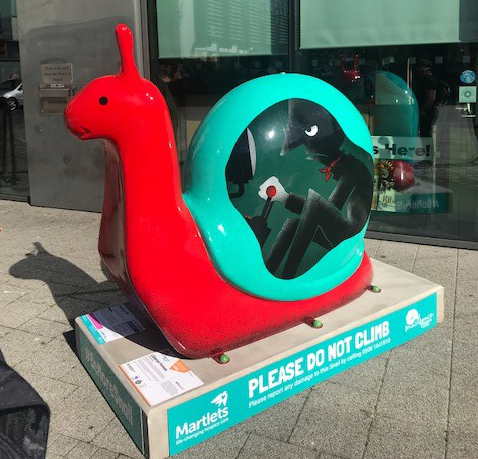 We're so grateful to be able to share all this with the art lovers out there – each of you has brought something to the artrepublic story in 2018, a big thank you to you all and we look forward to seeing you at plenty more of the gallery's events, openings and occasions in the year to come. From everyone at artrepublic Brighton, season's greetings and we wish you a very Happy New Year.
artrepublic is part of the history of Enter Gallery, find out more.