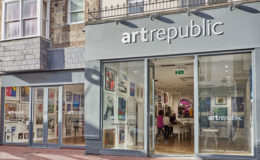 Visit artrepublic Brighton via your computer, smartphone or tablet.
Experience the wonders of the artrepublic Brighton Gallery with an immersive 3D virtual tour!
If you can't make it to the gallery in person, view all the artworks currently on display, with highlights, below!
To find out more about any piece, please call the gallery on +44 (0)1273 724829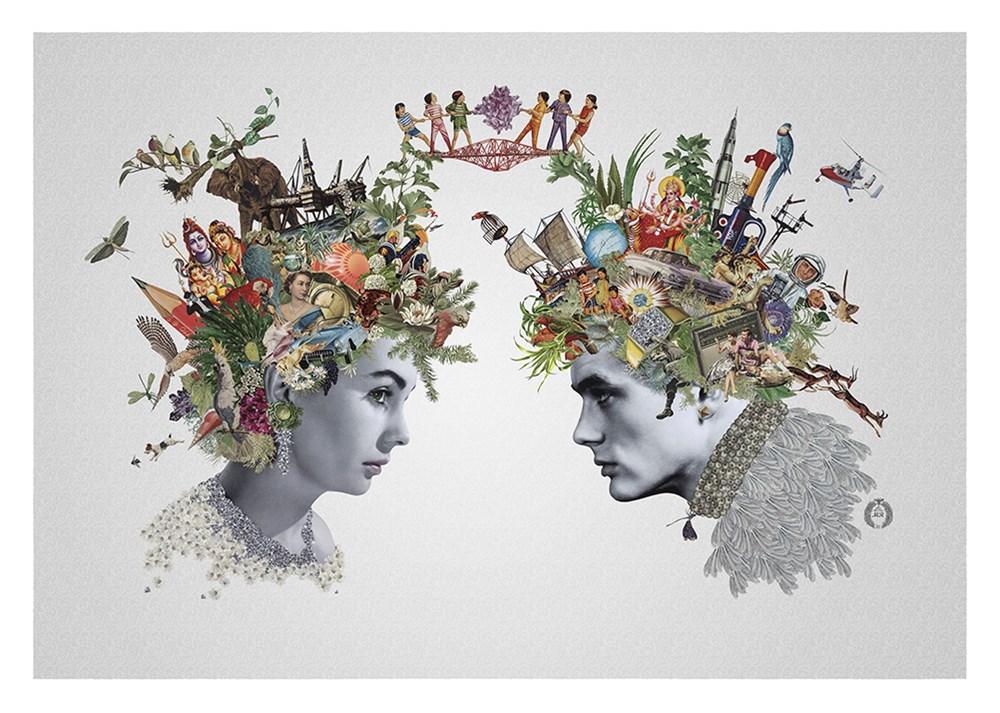 Known for her mash up of surrealism and pop-art, Maria Rivans uses collage to combine 1950s pop-culture references for a striking and quirky aesthetic that oozes sophistication whilst remaining playful.
A giclee print with diamond dust, silver ink and spot varnish, this piece captures co-stars Liz Taylor and James Dean each wearing the trademark Maria Rivans headdress made of collaged elements.
'Penthouse Pool' by Slim Aarons'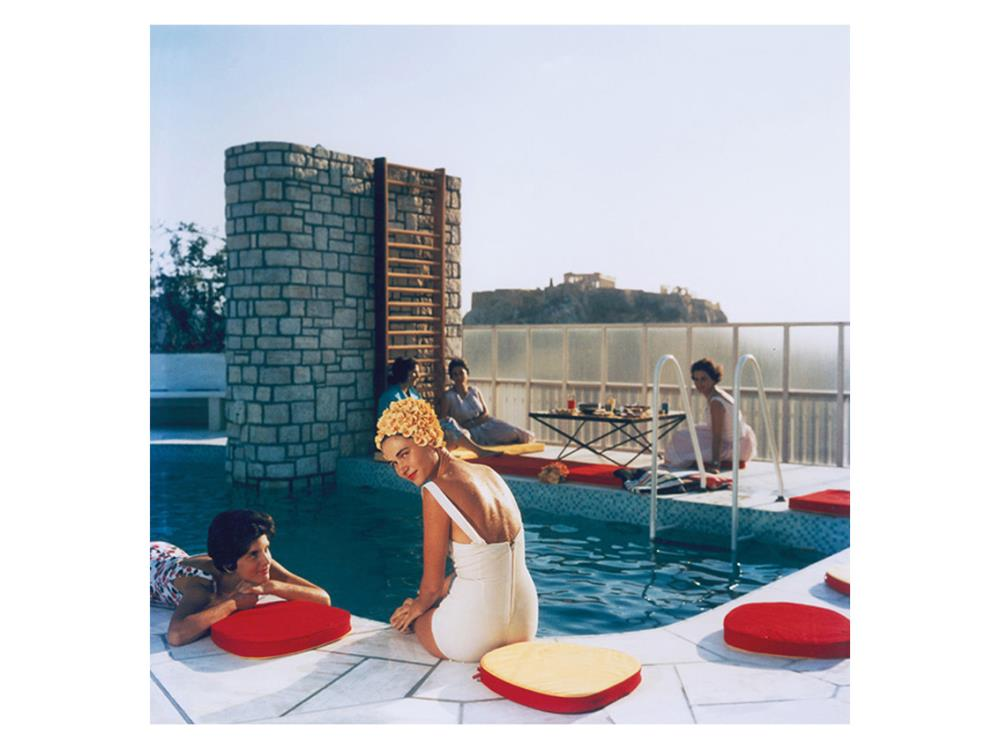 Photographing celebrities and wealthy people for over 6 decades, Slim Aarons has produced a body of work with a luxurious aesthetic often mimicked in advertising to sell an aspirational lifestyle. He described his photographs as, "attractive people doing attractive things in attractive places."
True to form, 'Penthouse Pool' shows young women lounging by the Cannellopoulos pool in Athens in July 1961. The style of the swimwear providing a snapshot of the era that looks so perfect it's hard to believe it's not a Vogue photoshoot.
Best known for his minimalist and brightly coloured large-scale murals adorning buildings and streets across the globe, Maser has captured this energy on canvas in his new range of print work.
A signed limited edition of 20 woodcut, 'Translation VII' uses the same distinctive bright colour palette seen in his Street Art, to create a bold composition using geometric abstraction that mimics his larger works.
To find out more about any piece, please call our gallery on +44 (0)1273 724829.
'Fresh, White, Spring' by Bruce McLean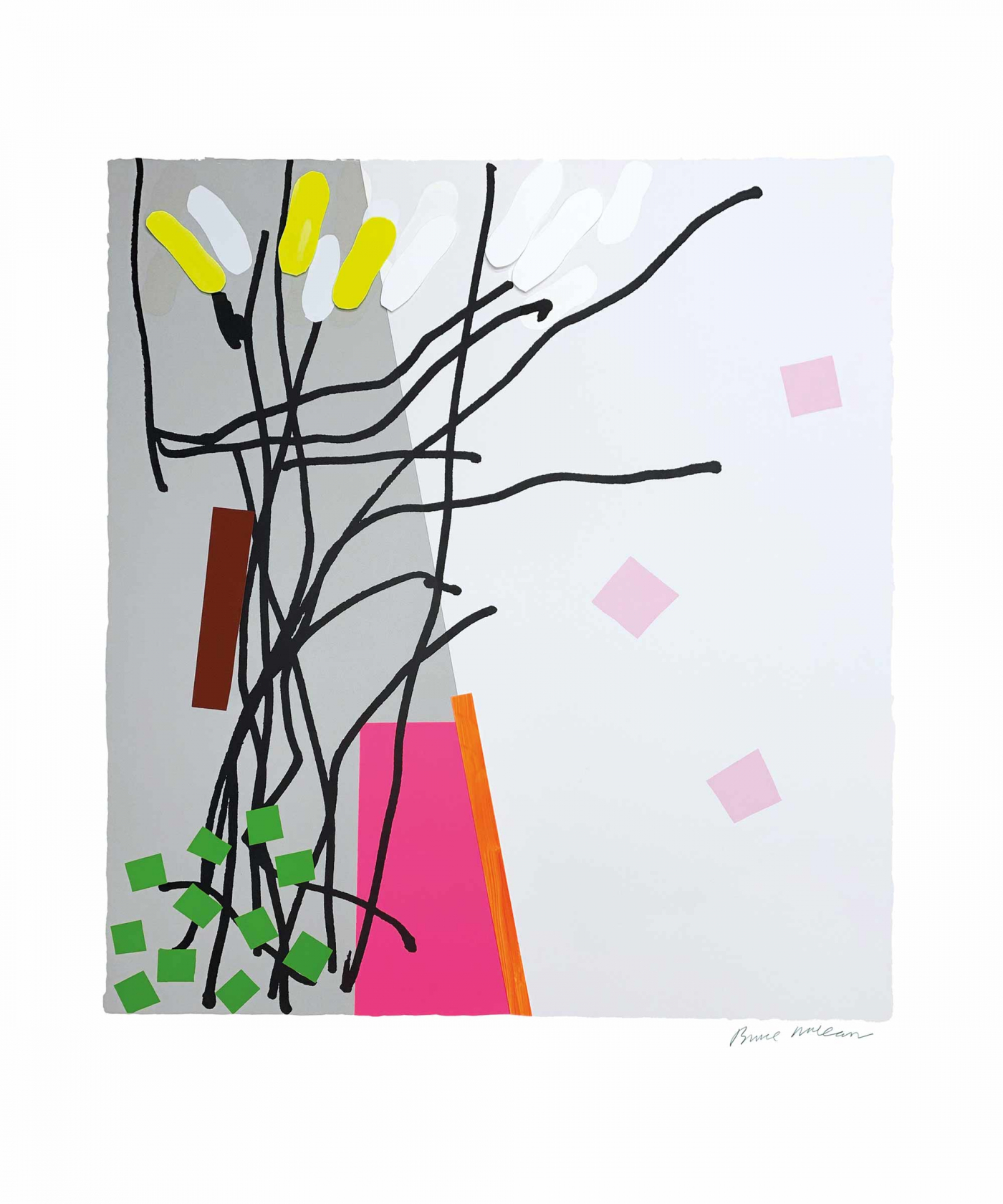 One of the major figures of contemporary British Art, Bruce McLean led the development of Conceptual Art in Britain in the 1960s.
In his instantly recognisable aesthetic, 'Fresh, White, Spring' captures the crisp freshness of the new season with blocks of colour in varying shapes that push the boundaries of conventional art.
'There Is Strong Shadow Where There Is Much Light' - Red or Yellow by Magnus Gjoen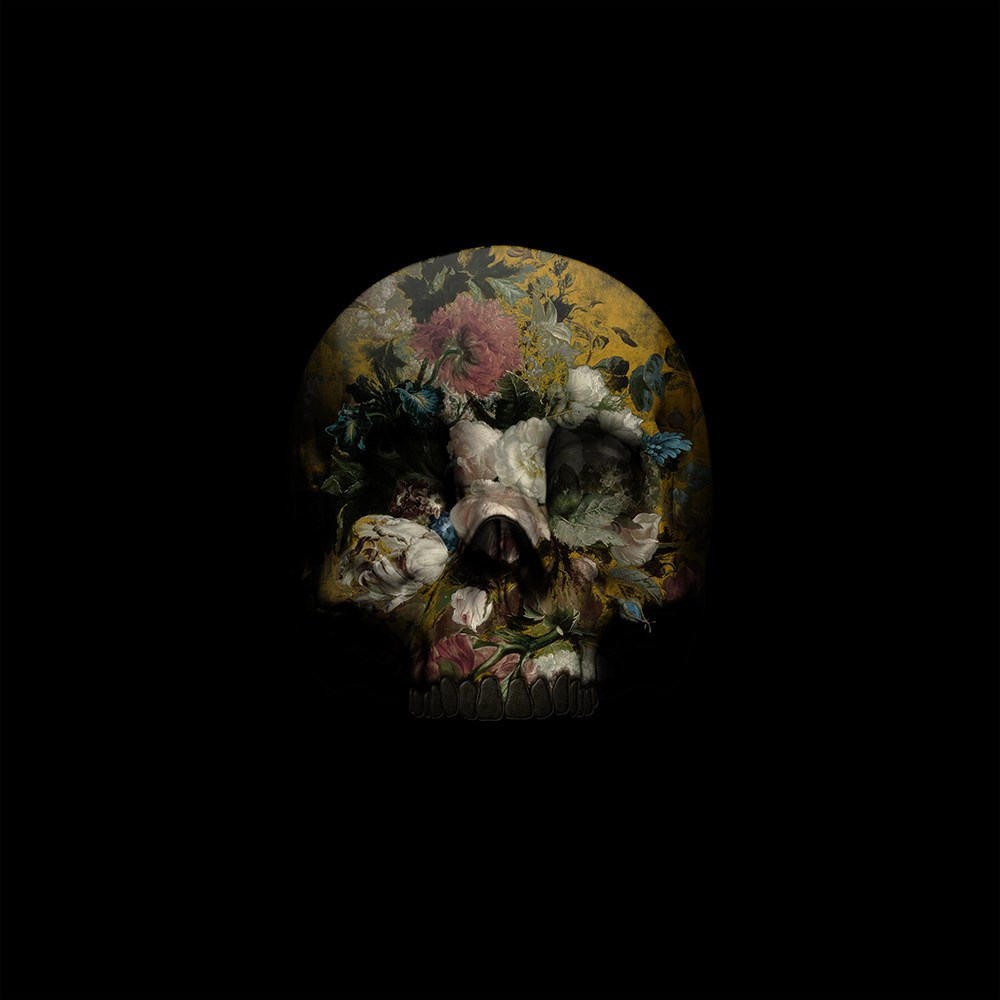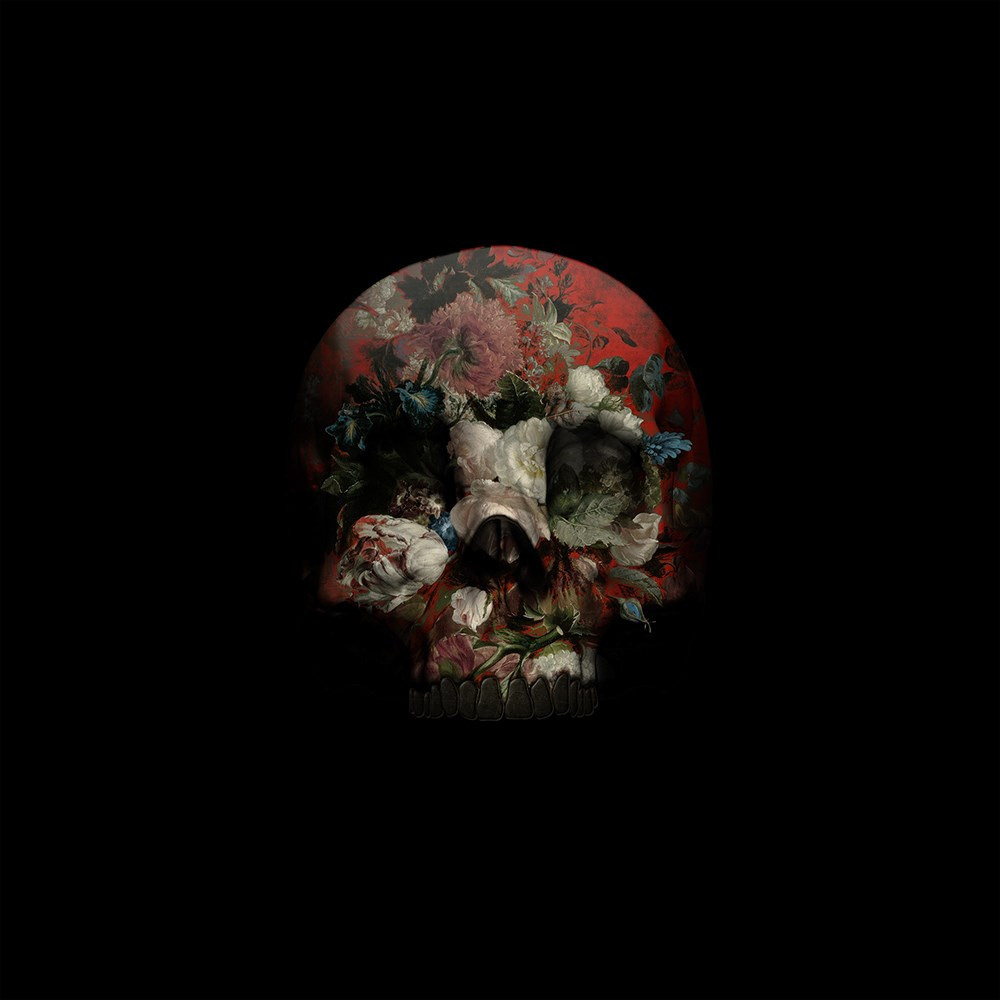 Showing a human skull patterned with a Baroque floral print, emerging from the inky black shadows, 'There Is Strong Shadow Where There Is Much Light' is a signed limited edition of 80 Giclee that plays with power and fragility and the juxtaposition between these two opposing forces.
The skull with its deathly connotations is softened with the floral wreath Gjoen has added, making us question our preconceptions and create something beautiful and glamourous from something traditionally seen as frightening or a sign of danger.
'Contact, Merge, Void 01' by Boo Saville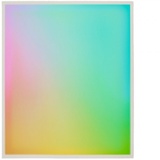 Highly emotive with hidden depth behind the deceptively minimalist exterior, 'Contact, Merge, Void' refers to a deeper sense of space, dark matter and star formations.
Skilfully and painstakingly created with overlapping layers of colour blended into abstraction. The result is a calming and magnetic immersion of colour that soothes and excited at the same time.
'Lana Del Rey's Nightmare' by Pure Evil
Charlie Edwards aka, Pure Evil continues his 'Nightmare' series of modern icons with singer Lana Del Rey.
Using his over-the-top moniker to explore the darker side of Pop Culture, Pure Evil's dripping tear had become the trademark he uses to add an uncomfortable edge to the famous faces we may have taken for granted. Drawing attention to the unsung and sometimes troubled aspects of their celebrity life.
A signed limited edition of 30 with hand-applied 24ct gold leaf, Dave White captures the tiger with thick brush strokes, specks and splatters of paint in the distinctive style that he is best known for.
This dynamic painting technique creates a striking portrait of the powerful creature that oozes with movement and energy.
'Skate the Rainbow' by Ruth Mulvie
A fun snapshot of the Brighton seafront on a sunny day, 'Skate the Rainbow' leaves you with a warm and joyous feeling which is at the heart of all Ruth Mulvie's work.
Taking away the street furniture and focusing on the beautiful play between the skaters and the shadows they create, the vibrant colour palette (which Fruth Mulvie makes by mixing the paints herself) creates a wilder and more fantastical paradise with its intense hues.
Developed as an image during Hume's time in the RA Schools printmaking studio, 'Ticket' is reminiscent of the retro paper cinema ticket, in a piece which straddles the line between representation and abstraction.
Using laser-cut woodcut techniques and screen print to create a combination of flat and wood-grained surfaces, the pastel shade was painstakingly adjusted to create a sense of 'fading away' and a softer impression than in the glossy, large-scale paintings for which he is best known.
'I Drink to Make Other People More Interesting' by The Connor Brothers
Working under the pseudonym and fictional backstory of The Connor Brothers, the dynamic art duo present one of their vintage book covers with a tongue-in-cheek title combined with glamourous retro imagery.
A giclee print on archival paper with silkscreen varnish, the words, 'I drink to make other people more interesting' by Ernest Hemmingway create an unexpected narrative on modern culture we can still relate to.
'Rebels Get Results' by Rebecca Strickson
Inspired by the traditional imagery of trade union banners and protest placards Rebecca Strickson explores the power of community and working together in eye-popping colour.
Resembling an Ace of Diamonds playing card with a diamond shape and scroll motif sitting against a white background embellished with diamond dust, 'Rebels Get Results' is a Signed Limited Edition of 25 Giclee print.
Combining modern design with a vintage banner aesthetic, this playful piece celebrates the power of protest and those with a cheeky, rebellious streak.
To find out more about any piece, please call our gallery on +44 (0)1273 724829.
'It's a Worry for Some' by Elizabeth Waggett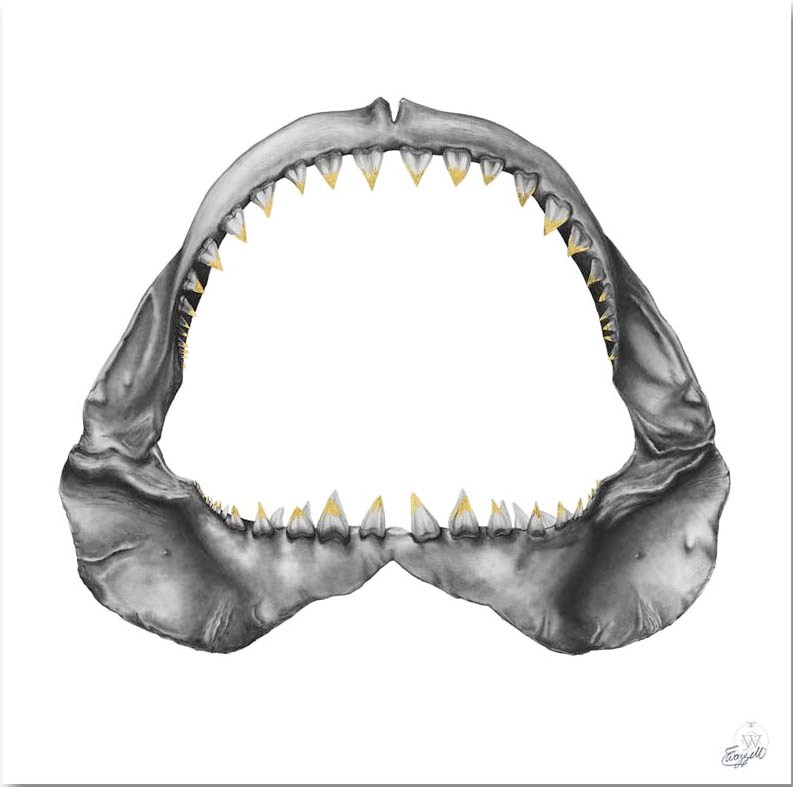 Depicting the jaws of a Great White shark this unique edition of 30 Giclee print by Elizabeth Waggett is hand-finished with ink and graphite and embellished with real 22 carat gold leaf.
Villainised by media, causing hysteria and mass hunting of these misunderstood and naturally peaceful creatures, the great white is in huge decline due to over-fishing, and illegal poaching. The gold highlights on the sharp teeth of the shark asks us to question man's priorities and the value placed on different species and who is the greater threat on the environment.
Using a complex cut and paste mixture of computer montage and highly detailed sculptural hand cut layers, Dutch artist, Handiedan creates a collage cornucopia of classic pin-up figures against a backdrop of layered baroque and Victorian Neo-Classicism designs.
Named after the brightest star in the constellation, 'Arcturus' is a limited edition of 15 giclee print featuring a flame-haired pin up amongst found imagery from bank notes, playing cards and sacred geometries. Intricate and meticulously crafted, the different elements are woven together to create a story celebrating the creative process as well as the finished artwork.
'Please Go Away' by Magda Archer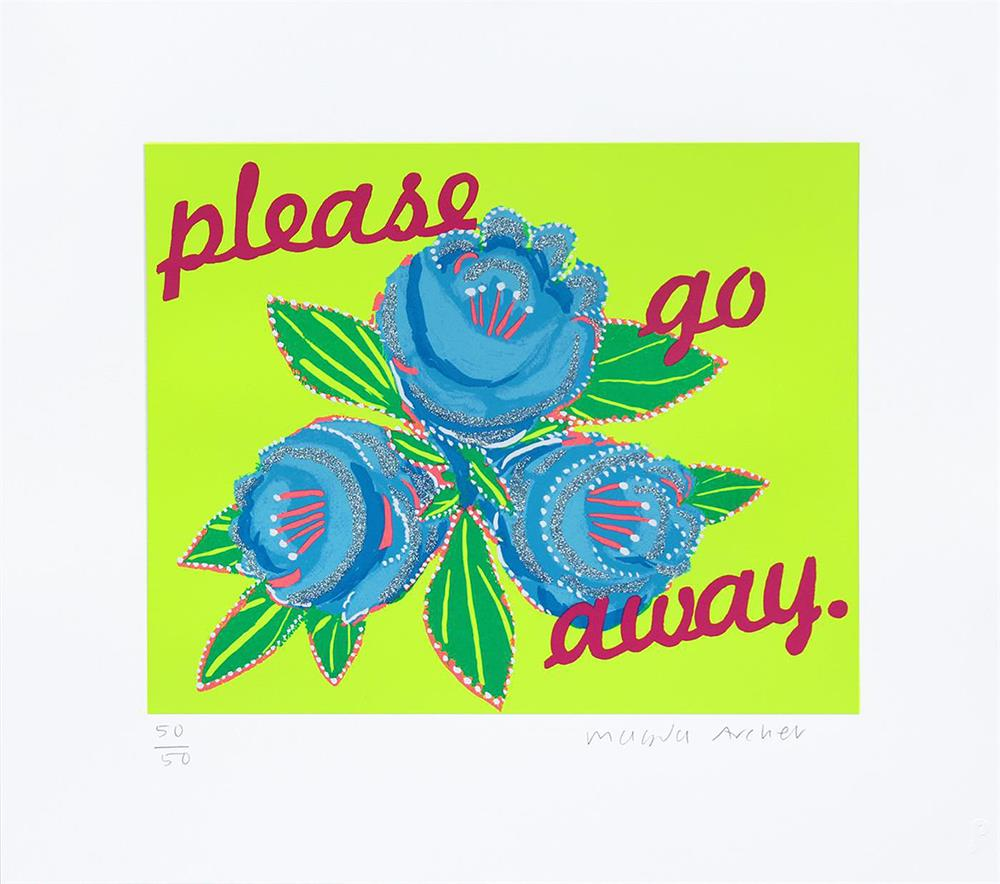 Artist and illustrator Magda Archer creates colourful kitsch artwork inspired by her collection of popular paraphernalia. Adding colloquial phrases to cutesy pictures to give an unexpected result that will make your smile, her work is unashamedly grumpy but honest and relatable.
'Please Go Away' is a 10 colour screenprint on Somerset satin white 300gsm paper, signed and numbered by the artist.
The pretty flowers with the words, 'Please Go Away' creates an antisocial artwork and amusing piece that is charismatic in its frankness - Giving voice to the words we often want to say to people.
'George Michael' by Mike Edwards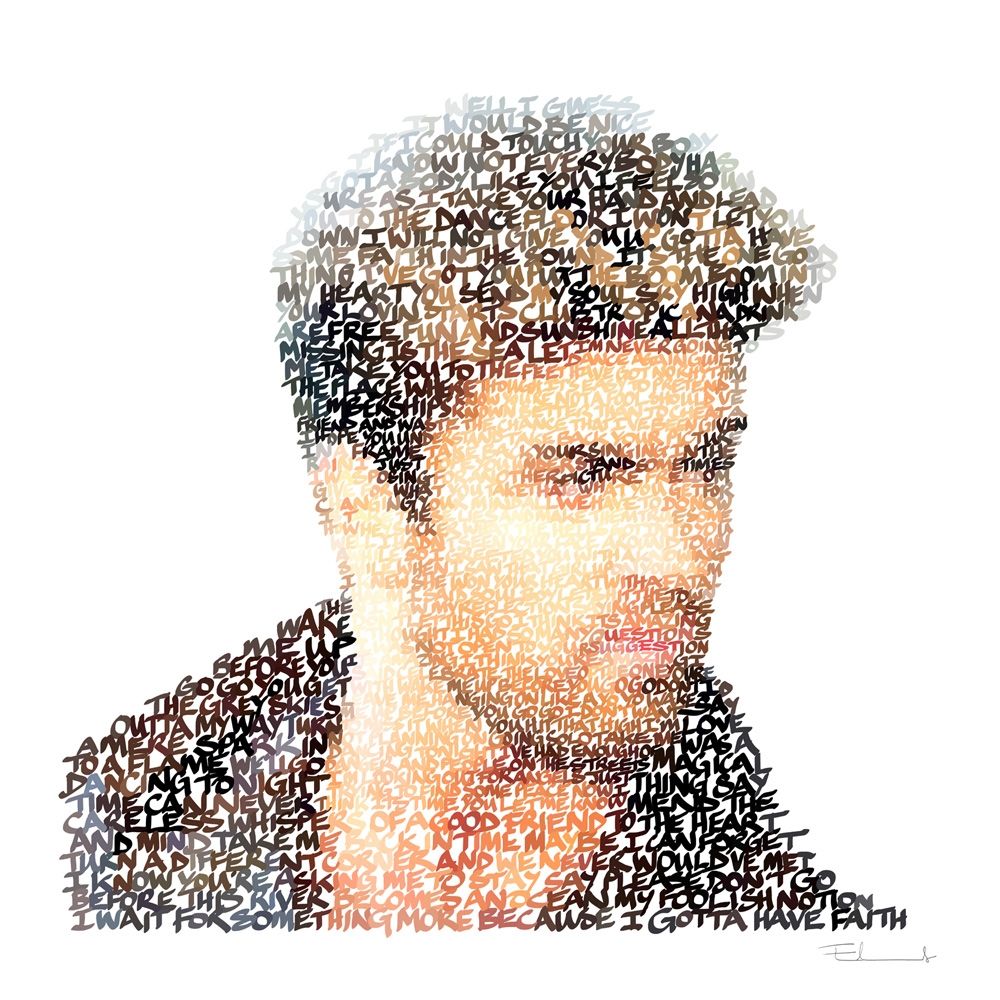 Using a pioneering method of typography, Brighton-based artist, Mike Edwards combines written words with imagery to create powerful art pieces that absorb the senses.
'George Michael' is a Limited Edition of 50 Giclée print Somerset Velvet Paper showing the singer immortalised in text from his own lyrics from both Wham and his solo career.
This masterful mix of image within graphic font creates a striking and unique aesthetic that seamlessly brings together the different art forms for a poignant meeting of literature and visual art.
'Dazzle Alphabet' Box Set by Sir Peter Blake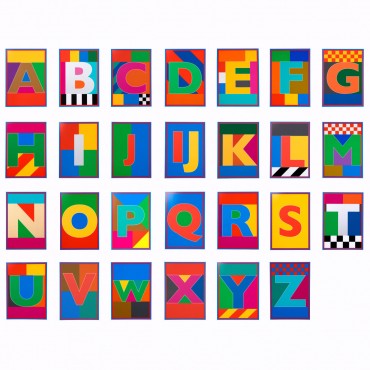 The Dazzle Alphabet is both a nostalgic nod to Sir Peter Blake's Pop Art roots and an experimentation with the vibrant colour palette of WWI ferries used to 'dazzle' the enemy.
Available as either part of the full alphabet box set or as individual letter, this Dazzle Letter from Sir Peter Blake is a signed limited edition of 100 silkscreen print with gold, silver and metallic ink and glazes. Each letter in the series is set against blocks of bright colour creating a statement letter which can either be used alone or together with other letters to create initials or words of your choice.
To find out more about any piece, please call our gallery on +44 (0)1273 724829.
'Happy Daze' by Benjamin Thomas Taylor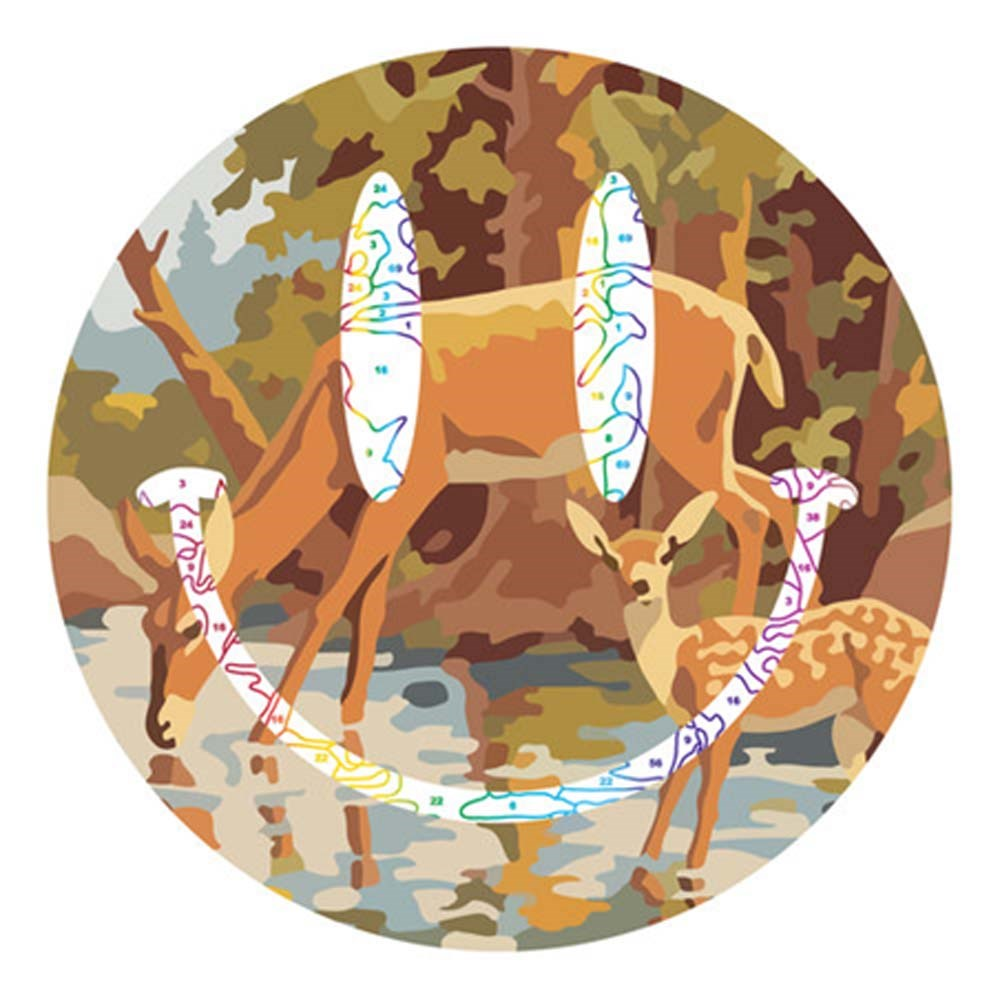 Hand finished with screen printed layers of varnish and rainbow foil, 'Happy Daze' is typical of Benjamin Thomas Taylor's joyous Pop Art style combining rural and urban landscapes with type and image.
A doe and fawn in a woodland setting are captured in earthy shades labelled with a painting by numbers pattern in rainbow foil with a grinning smiley face over the happy scene.
Well known for creating striking portraits of creatures from the animal kingdom, Dave White has captured the flamboyant flamingo in this 2019 diamond dust edition.
Filled with expression and movement, the delicate flamingo stands stylishly against a shimmering diamond dust background with the trace of the artist palpable in every stroke, splatter and flick of paint.
'Best of British' by Lucy Sparrow
Lucy Sparrow's 'Best of British' cabinet is a selection of British delicacies captured in felt and painstakingly hand painted in her UK workshop (or 'Felt Cave' as she calls it) for a charming collection of everyday consumables with a Pop Art feel.
From Spam, to Bisto gravy, to love it or hate it Marmite, all the iconic British favourites have been reimagined as child-like touchable toys for a nostalgic tribute of both play time, dinner time and days gone by.
'Pretty Thoughts Inside Your Head' by David Shrigley
An uplifting and positive portrayal of happy thoughts inside the brain, Shrigley continues his combination of juvenile drawings with random musings in this colourful, 38 colour screenprint from a limited edition of 125, 'Pretty Thoughts Inside Your Head'.
Innocent and amusing, Shrigley can bring poignancy and clarity from complicated situations and everyday absurdities that makes his work instantly loveable.
'Flower Ball Expanding Universe Rainbow' by Takashi Murakami
Heralded as 'The Warhol of Japan', Murakami is renown for his 'Superflat' theory of art, as displayed in this piece.
A limited edition of 300 Offset Lithograph print finished with Cold Stamp and High Gloss UV Varnishing, 'Flower Ball Expanding Universe Rainbow' is ingeniously constructed with a bending perspective to create the illusion of a globe whilst simultaneously maintaining the impenetrable flatness of the flowers. There is no depth to the piece, just flower upon flower in a bursting mosaic of multi-colour.
'Sponsored by You' by Grayson Perry
Showing Perry as his female alter-ego, Clare, sitting beside his side-kick and childhood teddy, Alan Measles in a flashy sports car, Perry says, 'It's basically a big expensive sports car with the names of lots of tax havens stuck on it'.
A large etching in Perry's distinctive aesthetic of acid colours and flat, juvenile perspective, the controversial and provocative piece targets, "all those people who earn loads of money by doing f*** all"
'M-Fluorobenzoyl Chloride' by Damien Hirst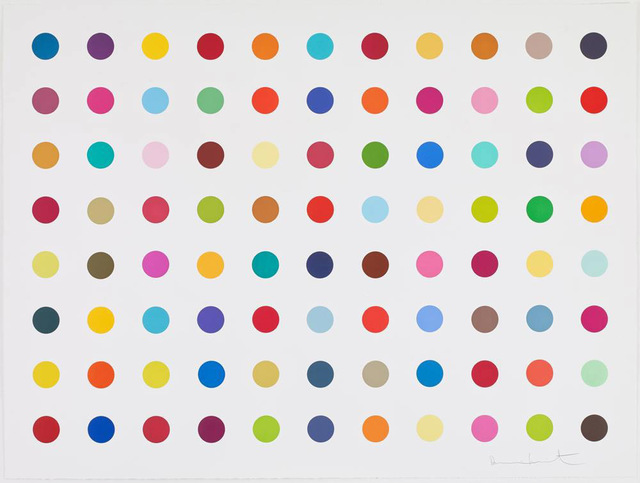 From one of Hirst's most widely recognized works, the spot series, 'M Fluorobenzoyl Chloride' is from the 'Pharmaceutical' painting subcategory which features spot prints named after chemical compounds used in over the counter medicines.
Clean, flat circles of gloss paint on a stark white and clinical background, each Hirst spot print possesses an intensity that can be as addictive and all-consuming as the controlled substances they are named after.
Speaking on the spot series Hirst says, "It's an assault on your senses. They grab hold of you and give you a good shaking. As adults, we're not used to it. It's an amazing fact that all objects leap beyond their own dimension."
To find out more about any piece, please call our gallery on +44 (0)1273 724829.
Formerly a sign writer by trade, Ryan Callanan is known for his graphic creations and 3D crafts using a wide range of materials to create tactile works of art that are both nostalgic and modern. Merging cultural references and elements of pop culture, he creates fresh style that is unique yet familiar
'It is important to me that my work is recognisable and accessible, that is why I like to experiment with symbols that I grew up with by appropriating them and giving them a humorous twist', says Ryan.
Named after one of his songs, 'The Illest' Callanan has reincarnated rapper Biggie Smalls in polyurethane resin and spray paint for a modern-day sculpture that combines Hip Hop, Street Art and Fine Art.
'Eat Sleep Rave Repeat' by Keith Haynes
An original rave acid house 12" vinyl artwork featuring Acid, Rave, House, and Trance dance singles in a 70 x 70cm Perspex box case, each piece is unique and from a limited edition of 20, signed by the artist.
The glossy black vinyl embodying the words, Eat Sleep Rave Repeat sits against an acid-yellow background for a tactile and appealing piece of nostalgic art.
'Eiffel Tower' by Sir Peter Blake
A 3D lenticular print presented in a hand-crafted aluminium box frame with clear vue glass, Peter Blake captures one of his most loved creations, the Eiffel Tower alongside one of his favourite motifs, the butterfly.
Standing tall against a pastel-blue sky with exotic, jewel-coloured butterflies in the foreground to create a sense of magic and wonder, the piece merges modern architecture with Peter Blake's quintessential collage dreamland.
A playful parody of Vladimir Tretchikoff's much replicated 'Chinese Girl' or 'Green lady', as she is widely known, Mark Denton takes this familiar image and gives it a surprising twist with a rebellious pop of pink bubble gum in his piece, 'Blew.'
An award-winning artist, Mark Denton has been a leading name in the advertising industry for over 40 years and his print work is proving to be just as attention grabbing with a dash of dark humour.
'Poolside Gossip' by Slim Aarons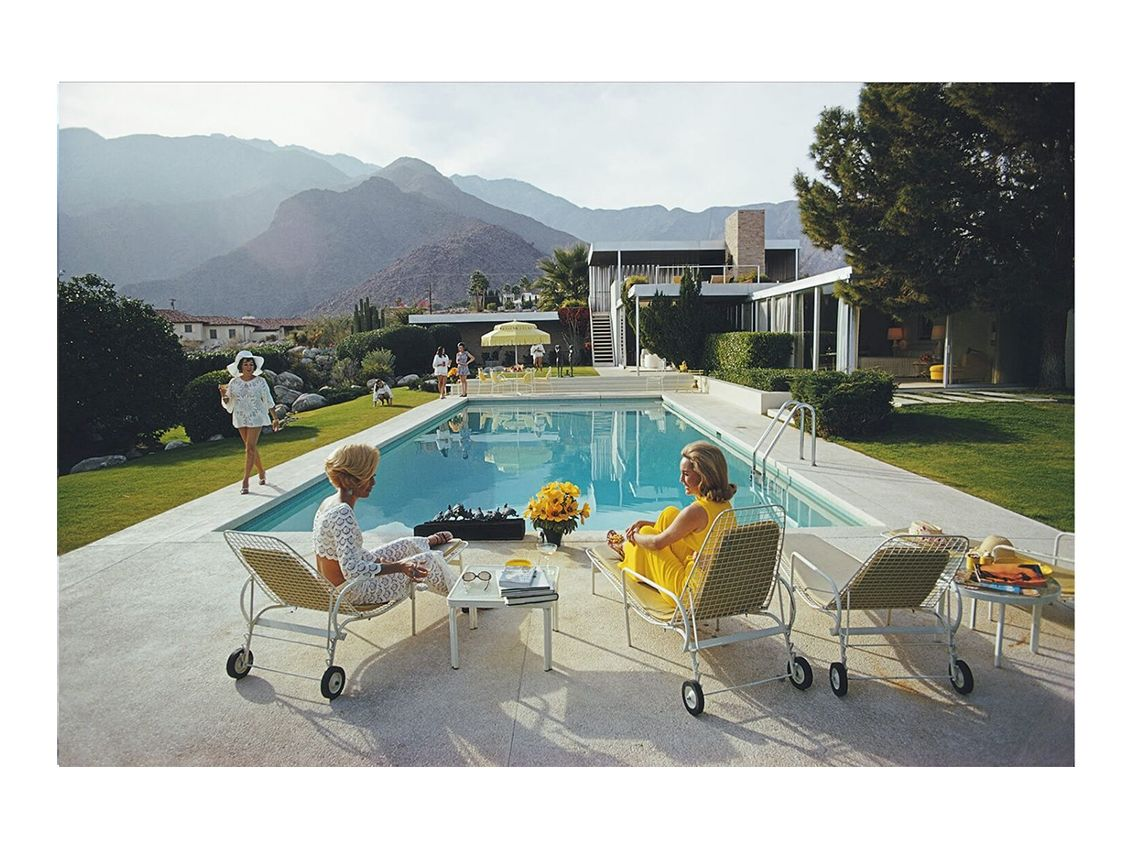 Perhaps one of Slim Aarons most iconic print, 'Poolside Gossip' captures the dusty desert hills of Palm Springs contrasting against a meticulously landscaped lush green garden and modern glass and stone house designed by famous architect Richard Neutra for Edgar J. Kaufmann.
The elite wives and socialites with immaculate hair and outfits epitomise Slim Arrons penchant for capturing fabulous people in their daily lives striking envy and desire in the viewer.
'Silverback VII' by Dave White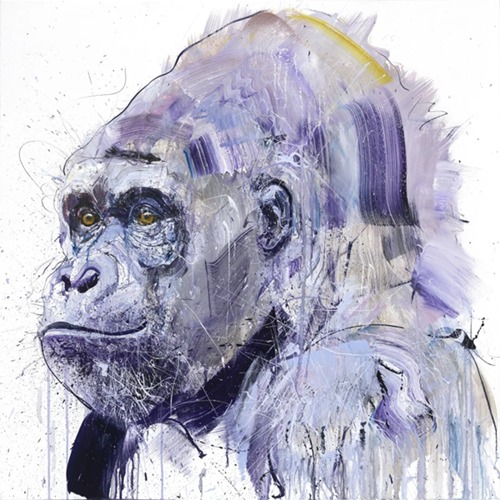 Best known for his expressive and vivid portraits of different species, Dave White uses his signature dynamic painting technique to capture the magnificence of the silverback gorilla.
Using thick brush strokes, specks, splatters and drips of oil and watercolour on canvas to build texture and movement, the resulting artwork possesses a level of detail where the skill and emotion involved in its creation is palpable.
To find out more about any piece, please call our gallery on +44 (0)1273 724829.
'Monster Book for Girls' by Gavin Mitchell
Reimagining familiar imagery using found material, Gavin Mitchell works in a variety of different mediums and techniques to create original and thought-provoking works of art.
Part of his East meets West series, 'Monster Book for Girls' emerged after Mitchell trawled car boot sales, junk shops and antiques fairs and found a vintage Japanese postcard and then coincidentally found a vintage Playboy magazine. He then began clashing the cultures together by mixing imagery from the traditional Eastern Art forms with products of Western culture to create an element of exaggeration, fantasy and parody.
'We Must Be Careful About What We Pretend To Be' by The Connor Brothers
Retro imagery with an unexpected modern narrative, The Connor Brothers present a playful twist on the conventions of romantic fiction and a unique perspective on popular culture that has made them one of the most influential art duos of the decade.
More relevant than ever in our digital age, 'We Must Be Careful About What We Pretend To Be' raises questions on identity and modern life in a thought-provoking print with a vintage feel.
'Not Too Bad - Pink' by Euan Roberts
Turning common phrases into touching depictions of everyday life, Euan captures the unspectacular with a childlike purity that broaches difficult subjects with playful optimism.
'Not Too Bad' shows a thumbs up hand signal emerging from the ocean in a symbolic gesture of remaining positive when times are tough and you might be drowning. Available in both pink and blue, 10% of proceeds go to The Campaign Against Living Miserably (CALM).
'Spraying in The Rain' by Dirty Hans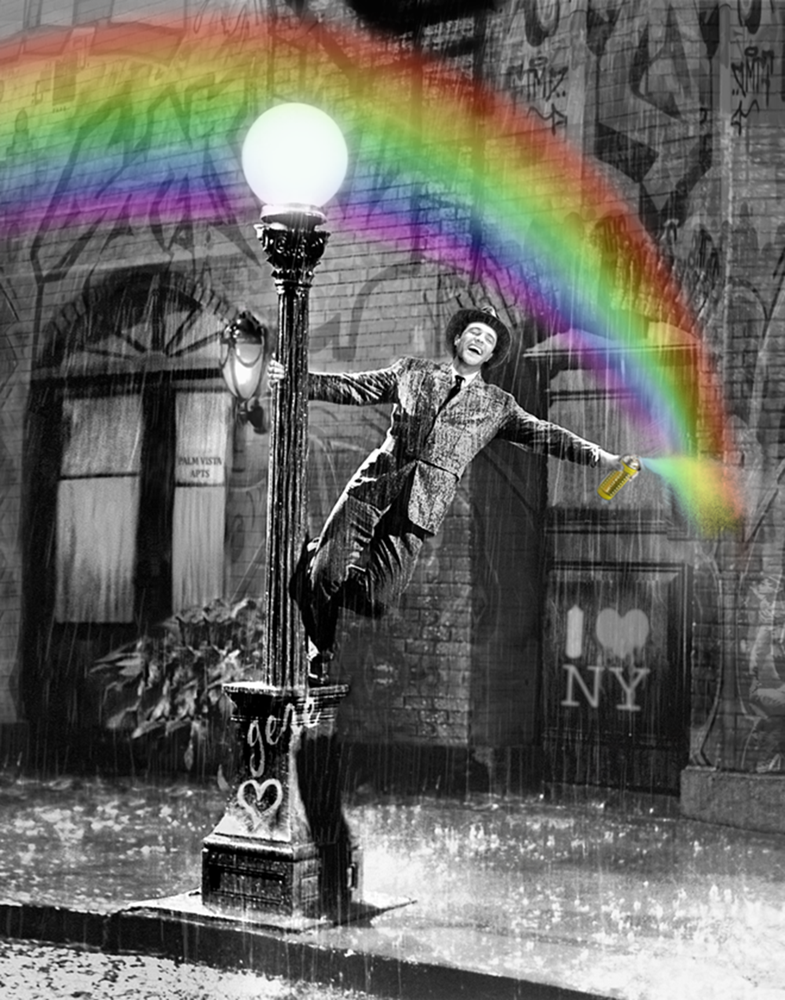 Dirty Hans uses his innovative combination of acrylic and spray paint on canvas merged with digital techniques to create an updated classic in his cheerful style celebratory of popular culture.
Showing the iconic moment, Gene Kelly swings joyously around a street lamp in the 1950s classic, 'Singing in the rain' but with the added spray can and flash of rainbow paint, 'Spraying in the Rain' is the modern, street art equivalent expressing the joy of art and painting.
'Fish and Chips' by Dave Buonaguidi
Creator of the iconic 'Make Tea Not War' poster for the anti-war march in 2003, Dave Buonaguidi continues to push boundaries with his combination of text and found imagery that demands attention.
Exclusive to artrepublic's Brighton gallery, 'Fish and Chips' is a signed limited edition of 25 created as a tribute to Brighton. Printed onto a map of Sussex, the neon words pop against the muted tones of the traditional map typical of Dave Buonaguidi's assertive style.
'A Quiet Neighbourhood' by Bonnie and Clyde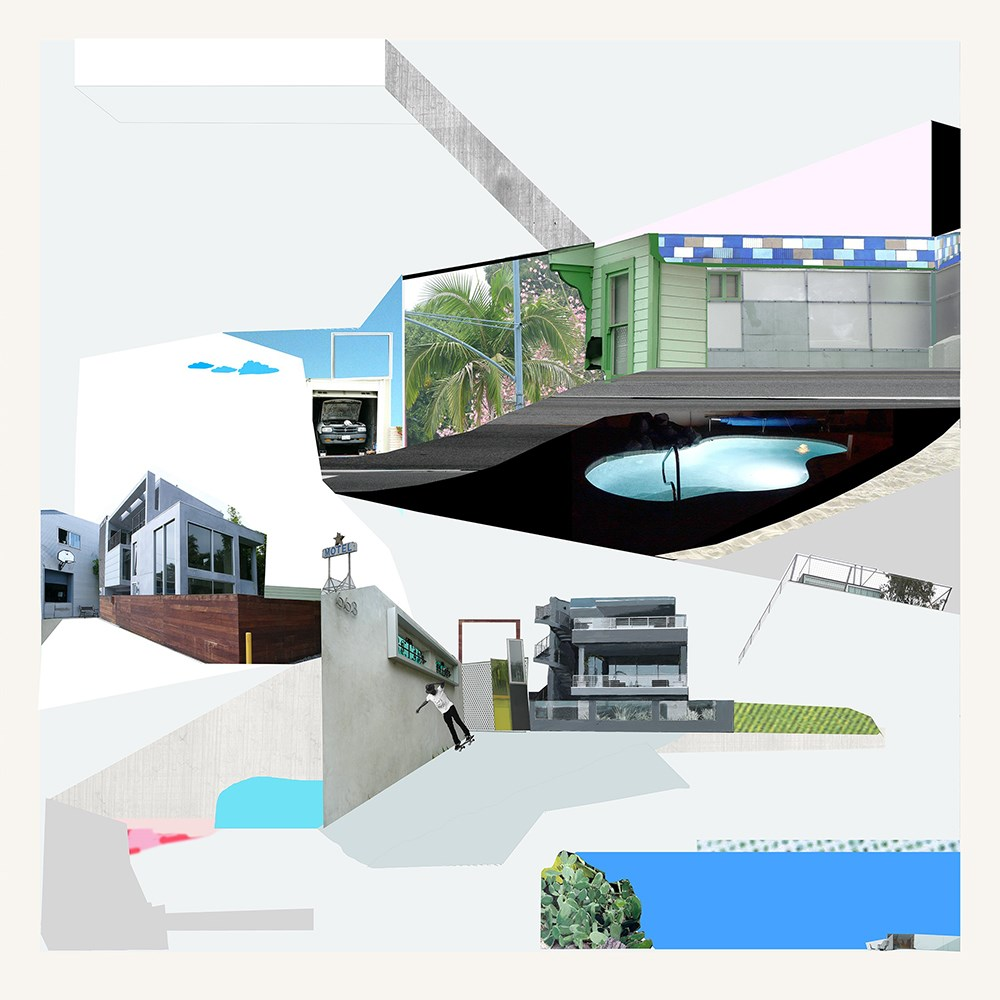 Blending her self-taken photography with fine art and photoshop until the lines of distinction disappear, Bonnie and Clyde's collage weaves together elements of different cities to create a contemporary urban landscape halfway between dream and reality.
Brightly coloured brushstrokes, modern architecture, sea and palm-tree lined streets are reminiscent of early Hockney but with a modern twist mixing soft greyscale with panels of saturated colour that highlight the contemporary techniques used.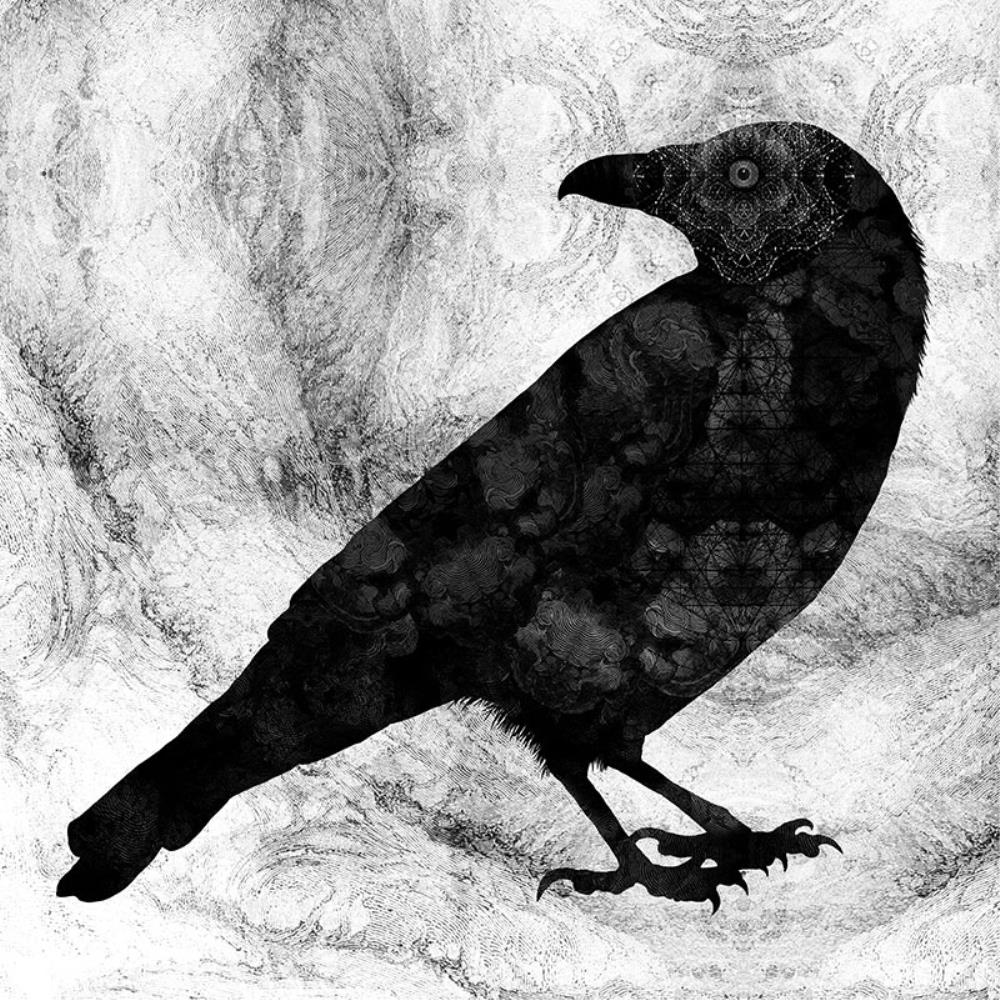 Another of Dan Hillier's extraordinary collages created from snippets of old Victorian prints, sourced from woodcuts, engravings, anatomical drawings and various illustrations, 'Raven' explores the interface between humans and the wilder natural world.
The haunting raven is an eerily beautiful depiction of the bird which is often seen as a symbol of a bad omen but also prophecy and insight. Hillier is fascinated by animal attributes and created fantastical hybrids of humans and animals spliced together with 1800s Victorian imagery.
'Death Must Find You Alive To Take You' by Magnus Gjoen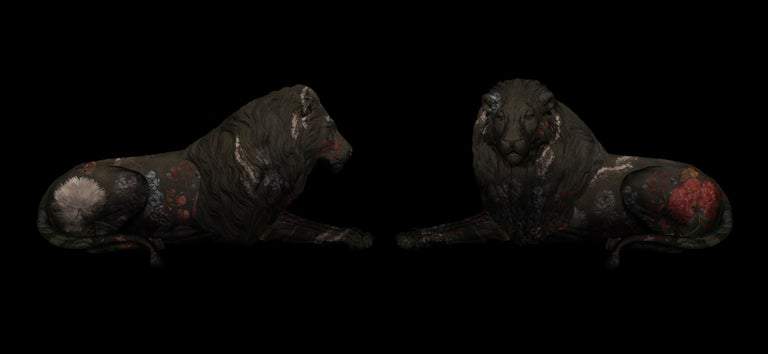 Showing two regal lions sitting majestically across the canvas, their bodies enriched with a floral Baroque motif against the dark and powdery black background, 'Death Must Find You Alive To Take You', continues Gjoen's experimentation with power and fragility.
Creating juxtapositions between two opposing forces, the lions which could be interpreted as ferocious are softened with the elements Gjoen has added, making us question our preconceptions whilst creating a striking and glamourous aesthetic.
To find out more about any piece, please call our gallery on +44 (0)1273 724829.
artrepublic is part of the history of Enter Gallery, find out more.