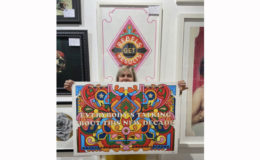 To mark International Women's Day, artrepublic is celebrating the launch of a mentoring scheme with The Girls Network, pairing female artists with girls from disadvantaged backgrounds to inspire and empower a generation of creative women!
Thursday 12th March – Get your tickets at eventbrite
Statistics show there is a huge discrepancy with girls expressing an interest in the arts at school and subsequently going on to work in the industry. Whether this is due to a lack of confidence, representation or opportunity, artrepublic are getting involved and have introduced some of our female artists to become mentors with The Girls Network. By being positive role models to girls from less advantaged backgrounds, they will be helping creative young girls develop the skills and courage to realise their potential and shape their career.
Hear our female artists discussing life as an artist, breaking into the art world and how they are becoming mentors to young girls interested in the arts at our upcoming panel talk at the gallery.
The Girls Network will be speaking about the work they do there will be a chance to sign up on the night to become a mentor and learn more about this worthy cause. We will also be hearing from ambassadors who has completed the programme and how it has helped them.
Whether you are intrigued about the life of our female artists or looking for inspiration on breaking into a creative industry, the panel talk will be an insightful discussion followed by a Q & A session and an opportunity to network with the artists, ambassadors from The Girls Network and like-minded women.
International Women's Day's mission for creatives this year is to increase the visibility of women creatives and promote their work for commercial projects. So why do we need more female artists..?
Art influences society
Art which creates thought-provoking critiques on political and social systems has been shown to be one of the most dynamic methods of changing human behaviour as it is able to increase empathy and trigger reflection by challenging opinions and instilling values.
If one demographic has more of a voice in the art world than another then the art that represents our society as a whole and holds such a powerful influence is not a fair representation of everyone's experience of the world. By supporting female artists and young women who want to pursue a career in the arts we are enabling their voice to be heard as part of a fairer society.
Artists record and preserve our human history
Will the art dominating the artworld today be a fair representation of history when it is not a fair representation of the world population?
From prehistoric cave paintings to scientific drawings, to the avant-garde movements, artists play a significant role in how human history is recorded.
All forms of art from painting and sculpture to music and literature are often considered to be the source of a society's collective memory. Promoting more female artists can change the course of history and ensure one perspective is not favoured over others in the art world.
At artrepublic we want the art we showcase to be a fair representation of our culture and that includes people from all genders and ethnicities. As a business, we want to increase our capacity for positive social change as we aim towards a more inclusive and sustainable business and B Corporation certification.
We hope that the ongoing mentoring we have set up with The Girls Network and our female artists will help drive change and build confidence in a new generation of female creatives who will go onto work in the art sector and fulfil their potential.
Sign up at eventbrite to secure your place
In the meantime, here's food for thought from famous female artists on making it in the art world…
"Take drawing very seriously and take photos of things that you like. Keep a visual diary. And if you have trouble getting the right qualifications to get in university or art school, go to as many evening classes as possible." Tracey Emin
"Don't get rid of negative emotion, use it …. Like the salt in your food." Yoko Ono
"Take chances with what you do, make things that no one but you will ever see, unless it turns out so good you want to share it." Cindy Sherman
artrepublic is part of the history of Enter Gallery, find out more.