England's largest & oldest annual Fringe Festival is back with its eclectic mix, from performance to visual arts from circus to exhibition, from classical concerts to club nights and from street theatre to tours, all artistic life is here!
Hundreds of exciting things will be filling the city in May with more than 600 performances and exhibitions in one city.
Highlights from this years visual arts attractions include; 33 Open Houses – where you can enjoy art in artist homes. The Show Below at the Brighton Media Centre featuring works by Graham Carter who was the 2008 winner in the 2D section of the Fringe Visual Arts Prize, and many more local artists. A new Youth Arts Fringe Trail which will showcase creative work produced by young people age 11 - 25 including photography, film, painting, graffiti, comic strips and sculpture.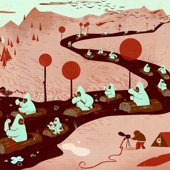 The newly sponsored and expanded Southern Water Fringe City will again entertain the masses this time on all four Saturdays of the Festival in Jubilee street and New Road.

On the last Saturday, the 24th May, Brighton Fringe will host Fringe Street the first ever Brighton International Buskers Festival. Returning to the Brighton Skyline is the UDDERbelly, with a second tent, lots of style and an amazing new program. The Spiegeltent will return, with a new tent and a new list of amazing shows, including cabaret, music, comedy and more.
The Brighton Festival Fringe is a service organisation that supports artists, producers and audiences. It exists to encourage the development and promotion of arts and entertainment activity.