We've just hung Chris Levine's seminal portrait of The Queen: 'Lightness of Being' in our London gallery.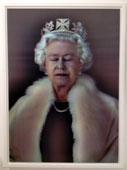 In 2004, the Jersey Heritage Trust commissioned light artist Chris Levine to create a portrait of Her Majesty to celebrate 800 years of loyalty to the English Crown.
The final portrait of The Queen is the first ever 3D portrait of the Monarchy to be commissioned.
The lenticular edition is signed and numbered verso and is presented in a bespoke white wooden frame with conservation backing.
Film clip taken from documentary made about the Queen Project
Lawrence Alkin Gallery is part of the history of Enter Gallery, find out more.