Located slap-bang in the centre of arguably the best and most diverse city in the world for art, culture and creativity, it is no wonder that our London gallery has such a wealth of talent on its walls. Presented are the best technical stencil artists to make it through the door.
With Banksy still shinning such a large torch for British street art around the world, and with London the focus of most of the attention, it is sometimes hard to see past the man who is quite frankly an international cult art superstar and see the other amazing talent that is available on the streets of London.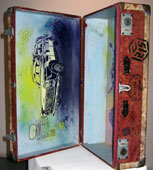 C215 is one artist who has quickly established himself as a leader of innovative street art and executor of technical and challenging stencils since his explosion into the mainstream street art world a few years back. Every single one of his original stencil works is fashioned by hand and sprayed by hand. To see it being produced is just incredible and knowing it has all been done without the aide of computers makes the finished product that little bit sweeter. Many of C215's works are produced on found materials and old Europeans newspapers. With his street work spread out all over London rather than being confined to the traditional East End you are certain to see his know famous C215 box tag around (just a case of looking).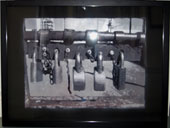 Adam 5100, similar to C215 with respect to his subject matter adopting are more fine art aesthetic than is usually associated with street art - which tends to be linked with current social and political affairs. His stencil works take on a satirical look, challenging the concepts of modernity. Within his work he uses spaces and light as a language, describing forgotten places to evoke their story and context within present day. Adam 5100 is from America and is a graduate of the California College of Arts and Crafts where his graphics past fits perfectly with the street art that is predominately seen in London.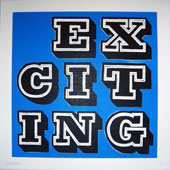 Ben Eine's work is about as London as you are likely to get – very graphic and lends itself inexorably to the stencil medium. His work, which is centred solely on typography, epitomises that look of art which appears easy to do but in actual fact is damn hard to get right. His letters are of technical genius from a typographical perspective which makes them look and fit their surrounding so perfectly. Situated in a city where you just have to open your eyes to see advertising and subversive messaging, Eine's graffiti plays against that superbly, serving up bold statements which cut through all the hidden meanings.
artrepublic is part of the history of Enter Gallery, find out more.