2009 has been filled with many an interesting happening thus far. For us the debut showing of Damien Hirst's limited edition spot prints in our Soho gallery was more than interesting, it was damnably exciting. How to follow up we asked; with Hirst's effortlessly beautiful Butterfly prints we thought.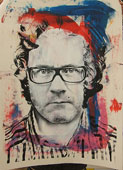 Damien Hirst, illustrated here by US street artist Mr Brainwash, was born in Bristol, England in 1965 and was one of many rising stars to emerge from Goldsmith's College London in the late 80's. He immediately grabbed attention when he curated the now renowned student exhibition, Freeze in East London.
This, followed by many successful exhibitions and an infamous relationship with the super collector Charles Saatchi led to him headlining in the group show Young British Artists of which Hirst became the most prominent member of the 90's artistic movement of the same.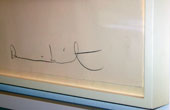 Both of the two new limited editions are virtually inseparable aside from the butterfly and a few subtle details. They are the same size, framed the same and both are titled 'The Souls on Jacob's Ladder Take Their Flight', which is essentially the title of the whole series of the butterfly prints.
Despite the butterfly prints measuring 109cm x 120cm these are from the 'small' run with a large version printed also. Both are signed by the artist in pencil on the front and are numbered on the reverse. They are editioned from a low run of only 72.
They have been printed using the traditional method of photogravure. Photogravure is a process which dates back to the mid-19th century whereby photographic images are printed on to paper using forms of mechanised etching of plates.
Flat copper plates are commonly used, etched deeply, applied with ink and then printed on to the paper by hand. The process is noted for its production of very rich, very high quality colour results.
artrepublic is part of the history of Enter Gallery, find out more.