On the 28th May, in what was another grand evening at The Loft Club at The Ivy, artrepublic Soho played host to an intimate crowd showcasing the latest artistic outpouring from the extremely talented scratch painter Nicolas Ruston.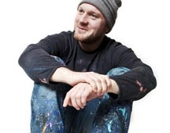 Essex born Ruston is widely recognised for his scratch paintings depicting and subverting contemporary popular culture. He began painting professionally in 1987, and is a graduate from De Montfort University after a three year apprenticeship under sculptor John Warren.
His earlier works often reference icons of popular culture such as Superman and Audrey Hepburn with later works depicting juxtapositions of contemporary ethos, historical events, political figures, religion and fine art. The latest series of paintings that were exhibited at The Ivy tackle society's relationship with the media and how it shapes our reality.
With 'We Love Plastic' and 'Queen's Head' we are offered, through the extremely expressive technique of 'scratch', a refreshingly complex reflection of contemporary culture.
'Queen's Head' in particular, given our Soho gallery's previous form as an epicentre of punk and chief output of Jamie Reid, can be viewed as a subversive neo-punk image. Ruston takes the Queen (exuberantly used throughout the 70's via the likes of Reid) and turns her round to show us her back saying she no longer wanting to look.
Ruston's scratch work and his use of vibrant colour are saturated in pop culture and mainstream media iconography. 'We Love Plastic' hits the nail on the head from this perspective.
Ruston's reputation continues to grow and his work has been championed by numerous contemporary art institutions as well as major auction houses. The show at The Ivy marked the beginning of an increasingly busy year with his work to feature in key scenes in the upcoming film "Dead Man Running" (released summer 2009), being asked to submit work to the Lawnfest charity auction fronted by Camilla Al-Fayed as well as being invited to participate in a major group exhibition curated by Holster Projects later in the autumn.
artrepublic is part of the history of Enter Gallery, find out more.