Just landed in the gallery are 3 new fantastic signed limited edition silk screens from London based street artist A.CE. These 3 striking prints have been produced using the original screen from his street paste ups.
A.CE has bee hitting the streets of London and Brighton for the best part of a decade now, pasting up his eye catching images and stickers where ever he can.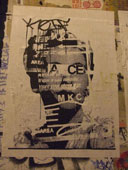 His name along with his style has evolved over the last 10 years, from his early beginnings in the mid 90s writing on the streets under the names of Ouzi, Evol, Acer and Acme he has now settled with A.CE and has found a style more influenced by Pop Art and graphic design than graffiti.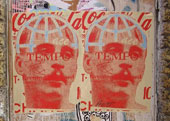 This new direction for A.CE has allowed him to be less focused on producing street work and given him greater time to spend in his studio or on Photoshop creating limited edition prints and original pieces.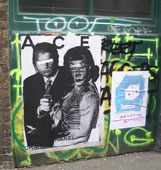 Big things are expected from this hugely talented artist and with many projects on the go at the moment this won't be the last time that you see his name splashed across your screen.