BIG news! We've just hung the beautiful new screen print 'Lips' from Sara Pope on the wall in our Soho gallery.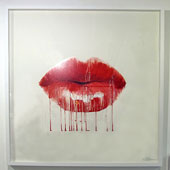 The aptly titled 'lips' combines the delicate, intricate, beauty of natural lips and the overt playfulness of those lips smoothered in luscious red lipstick - all rolled lovingly into a very well executed screen print indeed.
Sara Pope comes from a background in the fashion industry and the magazine industry, working as a shoe designer and art director respectively. Sara started painting in 2009.
artrepublic is part of the history of Enter Gallery, find out more.