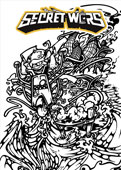 Secret Wars the knock out artists duel is coming to Brighton. After a number of one-off exhibition battles, which have seen python-sized queues and one of comic art and graffiti's biggest legends 'Mark Bode' take part Secret Wars has joined forces to set up a Brighton-based tournament on the world famous Madeira Drive, at Europe's biggest extreme sports and music festival - White Air 2009!
Secret Wars is the world's premier live art battle – working in similar ways to Fight Club, Secret Wars battles are set up / promoted through word of mouth.
It started in March 2006 as a testing ground for artists to show the public what they can do, the idea quickly evolved into a knockout cup style contest that now attracts regular crowds of over 400 people. These live art battles are being hosted in the darkest corners of each city, sometimes you might stumble across one in the basement of a bar in the East end of London or even in a deserted meat factory in Malmo Sweden.
The Rules are; 90 mins on the clock. Two artists work side by side with an invisible line between them, they can only use black paint on white walls, no sketches no pencils. They are then judged using a 3 point system with 2 guest judges and a crowd vote registered using a decibel meter.
With a host of local artists and others who have taken part in the live art tournament from across the country Secret Wars looks set to put on a show that won't be forgotten.
As well as showcasing artist's talents, a special mini tournament will be set up and scheduled through the course of the festival. There will also be mini-workshops and 'have a go' areas where the public can have a try. It doesn't matter if you're new to it or a pro. There's a spot for you to do your thing.
The schedule
18th September 1/4 finals
1st battle – 12:00 – 1.30pm – Limbo Vs Mr Nord
2nd battle – 1pm – 2.30pm Artist 74 Vs TBC
3rd battle – 2pm – 3.30pm Mist Vs Spit Sega
4th battle – 3pm – 4.30pm Oliver Harud Vs JOJENK
19th September Semi-Finals
1st battle 3pm – 4.30pm ? Vs ?
2nd battle – 4.30 – 6pm ? Vs ?
19th September Final @ Jam Bar 8pm – 3am
Middle Street, Brighton BN1 1AL