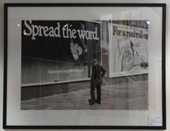 Gill Alkin (brother of artrepublic CEO Lawrence) has been working as a commercial photographer since the early 80s collaborating with numerous clients worldwide, creating fantastic, award winning photography.
We now have one of his large black and white photographic prints framed in the Brighton gallery available for purchase now. "Spread the Word" was taken in London in 2008 and features an elderly gentleman strolling past two vintage billboard posters advertising phone lines and tobacco.
His ethic behind his success is recognising the "importance of listening and asking questions, knowing it develops a good relationship with the client and makes business sense" which has clearly served him well in creating striking images such as this print.
artrepublic is part of the history of Enter Gallery, find out more.