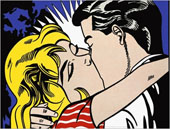 In line with the Roy Lichtenstein exhibition opening at the Tate next week, yesterday's episode of the Cutlure Show on BBC2 features a section on the influential pop artist in which the artrepublic Brighton gallery is shown displaying some of his posters.
The Tate is showing a retrospective of Lichtenstein's work over the last 20 years, one of the greatest American artists of the 20th century. The show brings together 125 of his most definitive paintings and sculptures and will reassess his enduring legacy. He was a leading figure in the Pop Art movement alongside Andy Warhol and Jasper Johns. As the presenter of the Culture Show discusses his influence as an artist, he walks along the Brighton Lanes and passes our gallery that has Lichenstein prints in the window!
artrepublic is part of the history of Enter Gallery, find out more.