Sixties visionary Tommy Roberts was the previous owner of Tom Tom gallery at 42 New Compton Street now proudly occupied by our Soho gallery. This unique boutique gallery space was established by this seminal visionary and impresario.
As well as leaving his mark on swinging London in the 1960s, the hot pants craze of the early Seventies, and the careers of Rock and Fashion legends, his innovative approach will continue to provide an inspirational legacy for the Soho gallery. As a tribute to Tommy Roberts we have kept the Tom Tom name above the gallery door and we take this opportunity to celebrate his colourful life.
The designer Sir Paul Smith declared Tommy Roberts "an inspiration, a real character and one of Britain's true eccentrics." He was born Thomas Stephen Roberts on February 6th 1942 in Bradford on Avon, Wiltshire. He had an early introduction to the rag trade, after the war his father ran a tie company called Roberto Neckwear. Tommy attended Goldsmiths' College in the 1950s, became a habitué of the Soho jazz clubs, managed coffee shops, and bought and sold American cars. The "populuxe" styling of espresso machines, limousines and blue suede shoes informed his distinctive avant-garde taste.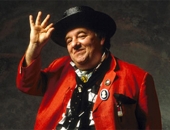 In 1956 he married Mary Brookes, and the following year opened his first boutique, Kleptomania, in Kingley Street. On opening, the stock itinerary included wind-up gramophones, Chinese opium pipes, 1920s candlestick telephones, old military uniform, and Penny Farthing bicycles. The mix of Edwardiana, psychedelic posters and proto-hippy apparel at Kleptomania soon pulled in members of the era's demi-monde, among them The Who, Jimmy Page, Julie Christie and Terence Stamp.
Kleptomania was situated adjacent to Carnaby Street and next door to the Bag O'Nails club which was one of swinging London's most popular late-night establishments, frequented by the new Rock elite. According to Tommy, clientele including The Rolling Stones, and The Beatles, would spill out of the club in the early hours and spot something in the window that they liked, then send someone around to get it for them the following day. The frilly shirts worn by Jimi Hendrix for his historic Saville Theatre gigs in 1966 were bought from Kleptomania.
Tommy Roberts built relationships with his creative clientele and his close friends were among the giants of pop culture and included Led Zeppelin guitarist Jimmy Page. He once negotiated a record deal for his close friend Ian Dury and he was a mentor for the parents of punk Malcolm McLaren and Vivienne Westwood. "Fashion, business, life, love. I don't want to run a shop", Roberts once said, "I want to run a circus."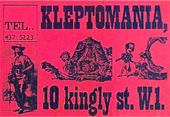 Following Kleptomania, Roberts' next venture was the King's Road Pop Art fashion emporium Mr Freedom, which he opened with his business partner Trevor Myles and named after a film directed by William Klein. Roberts recalled "it wasn't meditative or cool, but garish, loud and Pop, very upfront…. Like me," and it soon attracted customers such as Mick Jagger, Twiggy and Jean Shrimpton. Roberts became "Mr Freedom", the self professed "most vulgar person in fashion". The clothes that sold under the label Mr Freedom were the radical origins of street wear, incorporating strong graphics, primary colours, comic-book iconography.
When Liz Taylor & Richard Burton chose to publicly express their love for each other in 1970 they commissioned Tommy Roberts to create matching t-shirts with sequinned portraits. Elton John's 1971 outfit for his first Rolling Stone cover came from Mr Freedom. And Mr Freedom was not only the first to sell slogan t-shirts but also the first anywhere in the world to license images from Disney.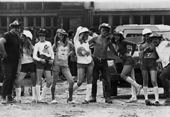 A move to larger premises in Kensington included such innovations as children's clothing and 'fun furniture': Liquorice Allsort pouffes, jigsaw-piece tables, and chairs that looked like sets of false teeth. In the basement was a mini burger bar, Mr Feed 'Em, which was the first British take on the American diner. It served blue-dyed mashed potato and a plastic fly with every bowl of soup.
In May 1972 the LA Times called Mr Freedom "the Andy Warhol of the Fashion World", and references to art can be found throughout Roberts' career. From Kandinsky printed satin and clothes which featured the signatures of Pablo Picasso and Paul Gauguin, to 'POW', 'ZAP', and 'LOVE' jersey dresses evoking Lichtenstein. His re-sizing of everyday objects into giant plastic furniture had the feel of Claus Oldenberg whilst the psychedelic bread and plastic fly garnish at Mr Feed'Em were Surrealism brought to life.
Roberts was bankrupted in 1974 by the recession and retreated to antique dealing. He kept up his involvement in the music business, managing and outfitting Ian Dury's band Kilburn and the High Roads, and offering free rehearsal space to the Sex Pistols. In 1993 Roberts married Jane Sharratt and returned to retail, with the central London store Tom-Tom, which is now the home of the Soho gallery.
Robert's Tom-Tom gallery mixed examples of post-war and contemporary furniture with Japanese toys, design collectables, and prints by the artists Jim Dine and Richard Hamilton. Tom-Tom customers included Noel Gallagher, and Patrick Cox. The gallery championed the collecting of art and furniture and exemplified the best of British boutique culture.
In the late 2000s Roberts retired to the south coast, where he made paintings depicting the images of the King's Road in its Sixties heyday. He also collected Dinky toy cars and rare books.
It was in 2007 that our gallery took over the gallery space in New Compton Street formerly occupied by Robert's renowned Tom Tom gallery. Ever since the Soho gallery has proudly continued the Tommy Roberts tradition of showcasing the finest cutting-edge art and supporting innovative contemporary artists. We've kept the gallery as a beacon of the best of British Pop with the work of Sir Peter Blake and Dave White amongst others. Music also continues to influence the Soho art spot with the gallery supporting artists such as Jamie Reid, with his infamous Sex Pistols album cover, and Stanley Donwood who's best known for the album covers he has produced for the band Radiohead.
Tommy Roberts was the unsung hero of British design, who seemed to live in the gap between life and art. His example and his favourite catchphrase "Come on, let's get going!" motivate us all to push the boundaries of art and design.
Images
Rave Magazine's in-house dandy decked out in flower-power finery from Kleptomania 1967
Jimi Hendrix, London 1967, wearing a shirt by the label Sam Pig in Love, a new line of clothing introduced to the shop which became a Kleptomania staple
Mick Jagger wearing a Tommy Roberts/Trevor Myles designed T-shirt which he purchased as stagewear for the Stones fateful American tour of autumn 1969
The ground floor interior of the Mr Freedom shop at 20 Kensington Church Street, 1971
Mr Freedom book cover, Kleptomania promo card
Johnny Rave/Rave magazine article, kleptomania boutique slogan, Jimi Hendrix, Mr Freedom shop interior and David Bowie images - all scanned from Mr Freedom Tommy Roberts: British Design Hero by Paul Gorman, published by Adelita.
Mick Jagger, Madison Square Garden, photograph scanned from The Rolling Stones by Jeremy Pascall & Rob Burt, published by Hamlyn
Mr Freedom interior. Photograph: JON WEALLEANS
Mr Freedom hotpants, 1970. Photo: Stephen Markeson (The Sun/NI Syndication), scanned from Petticoat, November 1974.