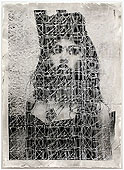 Our Brighton gallery has just received an amazing selection of work by US Graffiti artist RETNA, who's sell out solo show The Hallelujah World Tour has met with universal acclaim.
RETNA has created his own text inspired by Old English text, hieroglyphs, Arabic and Asian calligraphy and graffiti. It is up to the viewer to interpret this text, as he offers no translation to his code.
We only have a limited number and all are small editions so make sure you don't miss out on the chance to own a piece from one of today's hottest graffiti icons.