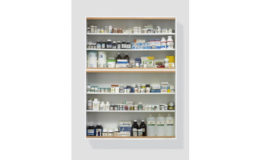 Pre-sale estimate for one of the first medicine cabinets from Damien Hirst's degree show.
"I lived with that medicine cabinet for seven years with people telling me it was crap" Robert Tibbles
Bought for just £600 by Robert Tibbles in 1989, 'Bodies' is from a set of 12 cabinets by Hirst each named after the twelve title tracks of the iconic Sex Pistols album, 'Never Mind the Bollocks, Here's the Sex Pistols'. A doorless medicine cabinet packed with everything from Optrex eye drops to Dioralyte rehydration sachets, the work is set to become a landmark in British contemporary art when it goes up for auction next month at Phillips, London.
One of the YBAs (Young British Artists) who dominated the art scene in the UK during the 1990s, Damien Hirst shot to fame after winning the Turner Prize in 1995 and continues to shake up the art world with his dynamic approaches. His varied work often explores themes of art, religion, science, life and death and he works in different mediums as a sculptor, installation artist, painter and print maker.
'Great art or good art, is when you look at it, experience it and it stays in your mind. I don't think conceptual art and traditional art are all that different'. Damien Hirst
Hirst's exploration into our complex relationship with pharmaceuticals is one of the most enduring themes in his work. His medicine cabinet and pill prints combine the aesthetics of minimalism with Hirst's observation that, "science is the new religion for many people. It's as simple and as complicated as that really."
Amongst Hirst's most widely recognized works, the spot series has 13 sub-categories of which the 'Pharmaceutical' paintings being the first and most prolific. We have two rare prints from this category available, 'M Fluorobenzoyl Chloride' and 'Mannitol' named after chemical compounds used in over the counter medicines.
Clean, flat circles of gloss paint on a stark white and clinical background, each Hirst spot print possesses an intensity that can be as addictive and all-consuming as the controlled substances they are named after.
Speaking on the spot series Hirst says, "It's an assault on your senses. They grab hold of you and give you a good shaking. As adults, we're not used to it. It's an amazing fact that all objects leap beyond their own dimension."
One to watch
For those looking to hang a similar cabinet in their home which makes a bold statement, as Mr Tibbles did with his Hirst, we recommend Lucy Sparrow as one of our most up and coming and investable artists.
Taking the art world by storm with her large scale, immersive installations filled with everyday items reimagined as plush felt toys, Sparrow's projects have included, *'Triple Art Bypass' – a felt depiction of an emergency operating theatre and consultation room and more recently, **'Delicatessen on 6th' - an upscale New York deli filled with felt foods.
The 'His 'n' Hers' cabinets we have available at artrepublic gallery each contain gendered toiletries in felt form that both celebrate the familiarity of these items but also raises questions on the expectations placed different genders and how males and females are marketed differently in a consumerist world.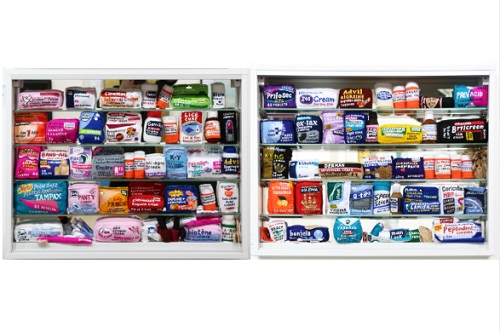 For more information on any of these artworks contact our Brighton gallery. Get in touch on +44 (0) 1273 724829.
artrepublic is part of the history of Enter Gallery, find out more.