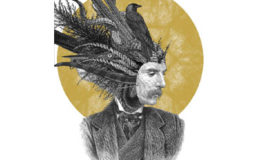 We have aunched a brand new box set by renowned artist Dan Hillier. Famed for seamlessly blending Surrealism and Neo-Victoriana, he creates new artworks from pieces of old Victorian prints, woodcuts, engravings and various illustrations.

The beautiful set of six giclée prints is presented in a bespoke archival display box, from a limited edition of 100.

Hackney-based artist Dan Hillier has been busy...
Over the past twelve years, he's produced art that has stretched his explorative style and made a significant impact on the UK contemporary art scene. Mainly producing art for himself, Hillier draws upon a huge range of influences and imagery to produce works that are arresting, complex and beautiful.
He has a glittering array of impressive collaborations under his belt, including Shakespeare's Globe Theatre, the Folio Society and most recently he created the opening titles to BBC One's new major drama 'Requiem'. He was also chosen in 2015 by the British Council to represent Britain in the Giant Creator Show in Beijing. No big deal.
Hillier's works are eerily provocative. They take you on a visual journey into the realms of your subconscious, simultaneously enlightening and perplexing the viewer. Exploration is a huge cornerstone of Hillier's working practice, leaving room for the spontaneity of his ideas to grace the pieces almost like epiphanies.
His diversity of ideological influences add depth to his work, his is often found quoting Buddhist texts in relation to his work on Instagram. It is clear that themes of rebirth, death, transcendence and enlightenment pervade his work. A huge fan of Tibetan art, the intricacy of the detailing and the texture of his pieces allude to ancient tapestries whilst contributing to his creation of something otherworldly and contemporary.
Full of contradictions, Hillier's work experiments with darkness and light, the biblical and the modern and monochrome and luxurious gold leaf. Visually contrasting and thematically opposing, Hillier confronts the metaphysical ideas surrounding our reality. Submerging us into an unsettlingly immersive world of ethereal beauty, Hillier pulls no punches in captivating the viewer. Although Hillier's technique relies upon collaging and pulling images from an array of different sources, the resulting compositions are always entirely cohesive. His ability to seamlessly blend his eclectic influences together is a tribute to his mastery of his form.
To view the new set call into our gallery at 13 Bond Street, Brighton, BN1 1RD or call us for more details: +44 1273 724829.