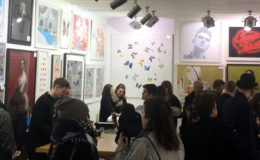 A memorable evening with Magnus Gjoen in our Brighton Gallery.

We'd like to say a huge thank you to everyone that attended last week's box set launch with Magnus Gjoen.
It was a real honour to see so many art fans, collectors and friends of the gallery in our Bond Street space for the launch of Magnus' long awaited box set. It was also a pleasure hosting the artist, who kindly took the time out to speak with many of our visitors to the gallery.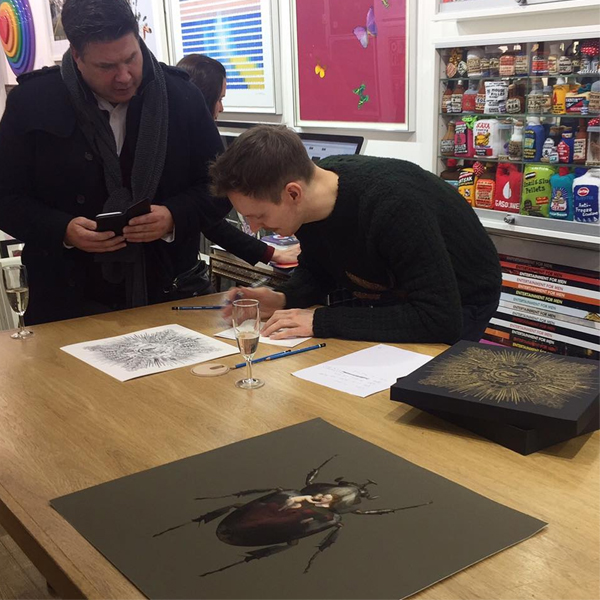 The set Vol.1: Skulls, has been quickly selling, but there are a few remaining in our Brighton gallery. Call the gallery 01273 724829 to get your hands on one!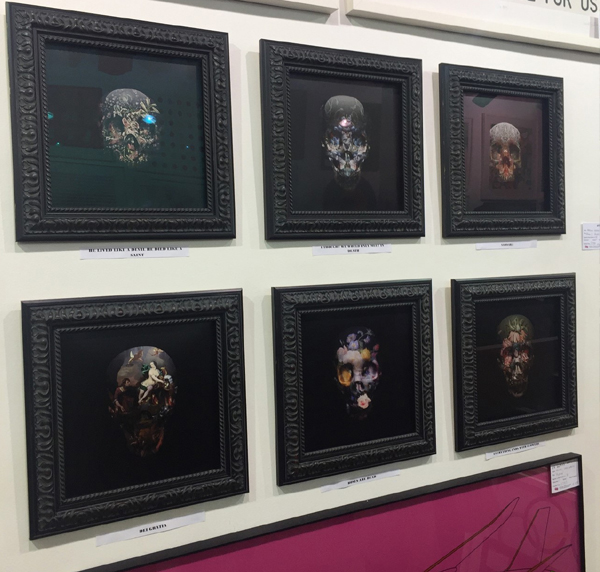 'Vol 1: Skulls' brings together two of Gjoen's most compelling themes: beauty and the macabre. Each print depicts a skull emblazoned with decadent Baroque imagery, from portraiture, to floral design, to intricate, geometric pattern: an incarnation of death that resides in the sublime.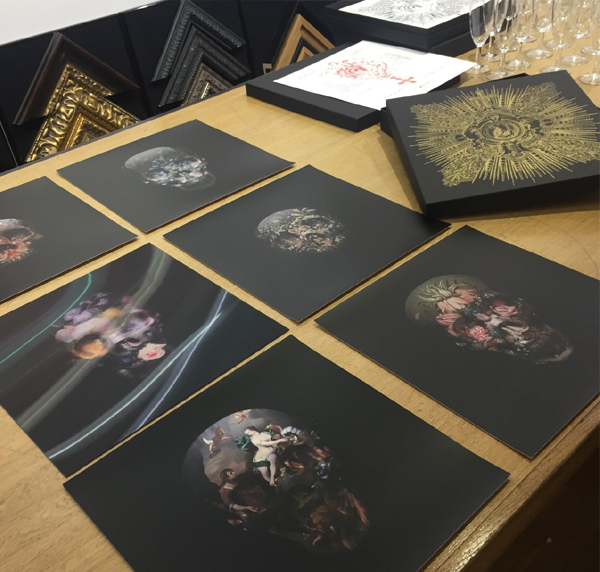 In our interview below we caught up with Magnus before the print launch to discuss, amongst other things, the themes he explores in his artwork and the influence fashion plays in his captivating prints.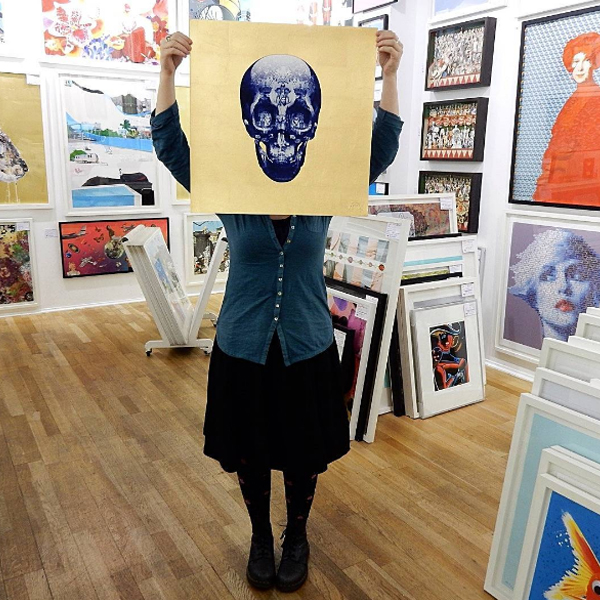 How would you describe the art you create?
My work is a lot of the time about rediscovery and taking things from the past and renewing it for the contemporary market. To breathe a bit of fresh air into dusty old paintings forgotten in the far corners of a museum or in its basement. It's also about presenting an object in a new light to the viewer who has innately predisposed that a specific object is negative. Beauty can also be found in a small piece of engineering like a gun. I choose the subjects that I connect with, that trigger something emotionally.
Name your favourite piece of art from history that contains a skull image? Hans Holbein's 'The Ambassadors'.
What is your intention for using the skull motif in your work?
Beauty and Death have long been an inspiration in art. It's what we humans think of most along with money. I also like the contrast between the beauty of the still life which brings life to the skull although the flowers themselves are soon to die. The inedibility of death.
Do you have a favourite piece from the new box set of skulls?
I would say 'He Lived Like a Devil & Died Like a Saint'. I think it has a nice presence in the 3D space. If you could invite any three artists from history over for dinner who would you choose?
Dali, Keith Haring and Michelangelo. I think they would be pretty entertaining.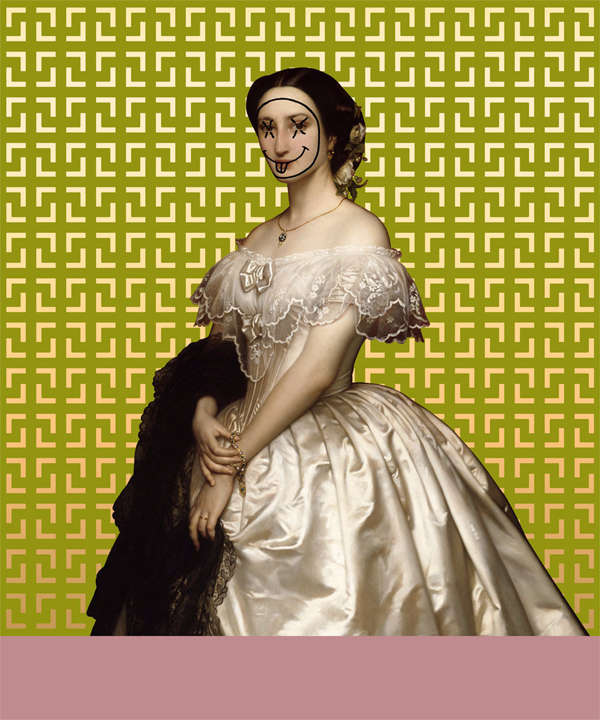 Describe a typical day in the life of Magnus Gjoen….
After my breakfast, morning coffee and walking the dog, I sit down and answer emails and will probably start working on something at the same time. I usually pop down to the printers in Shoreditch just before lunch to pick up orders. I'll have lunch or meet friends and then will go back to the studio and work on multiple things at the same time while answering emails, signing prints, approving proofs and working on new ideas. At around 5/6 I might have a 15 min nap, and usually continue working until my fiancé comes back from work. I'll probably relax in front of the telly unless there are other pressing matters until dinner.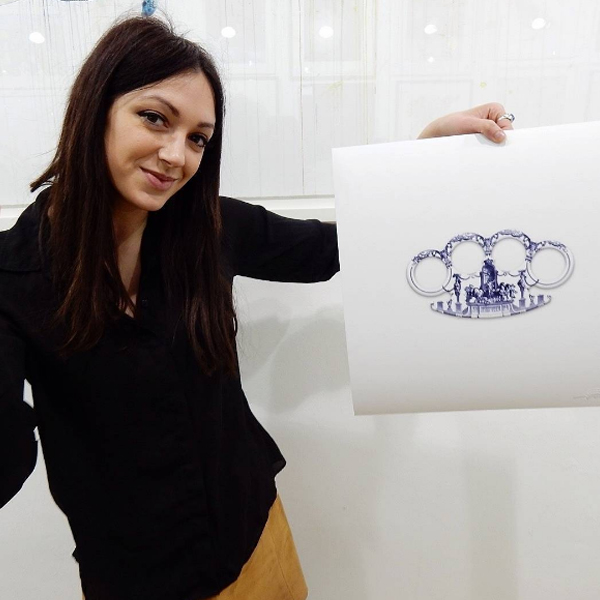 For a long time you've been one of our most popular artists at artrepublic. What has the journey been like to get to this position? Are there links in your work to your experiences as a fashion designer?
I think it's impossible not to bring fashion into art. You are of course bombarded with images daily and these are stored in the subconscious while you're creating. You do bring a business element into the picture after having worked in fashion. I do often ask myself 'would people want this on their wall?'. Sometimes you have to follow your instinct, but I don't believe in making art for yourself.
What would you perceive to be the biggest threat to art? The inability of a group of people to think for themselves and rather base opinions on what everyone else thinks.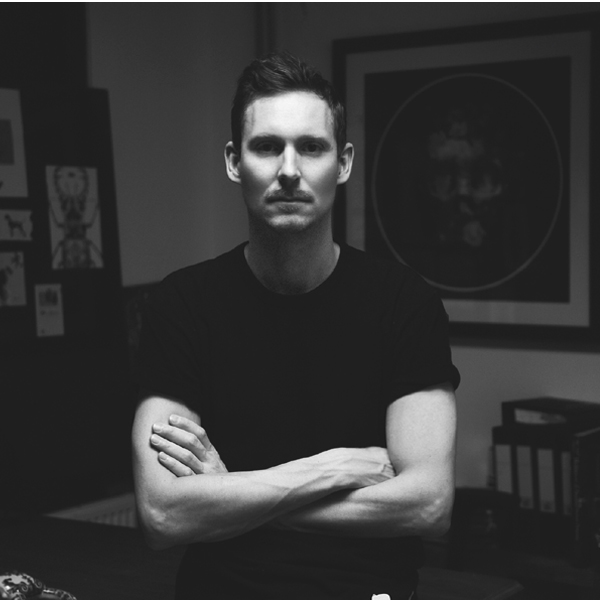 What's the best piece of advice you've received?
It was a question; 'What are you going to do next, how are you going to develop?'
Magnus Gjoen's latest box set of six skulls will be available exclusively from artrepublic.
'Meet The Artist' with Magnus Gjoen takes place from 6pm on Wednesday 1st March in our Brighton gallery. To get your name on the list call us on 01273 724829. This is a night not to be missed!
For further information on any of his work please contact the gallery on 01273 724829.
artrepublic is part of the history of Enter Gallery, find out more.