Things come and go quickly in our Brighton gallery, here are a few prints that are nearing the end of their edition. Call our gallery on +44 (0)1273 724829 for further information on anything featured.
Mark Vessey – 'Norman XL'
Following our amazing event and artwork release in November 2018, celebrating the artwork collaboration between Brighton-based photographer Mark Vessey and international DJ, Norman Cook – there are only a few of Vessey's 'Norman XL' limited edition prints left at the gallery.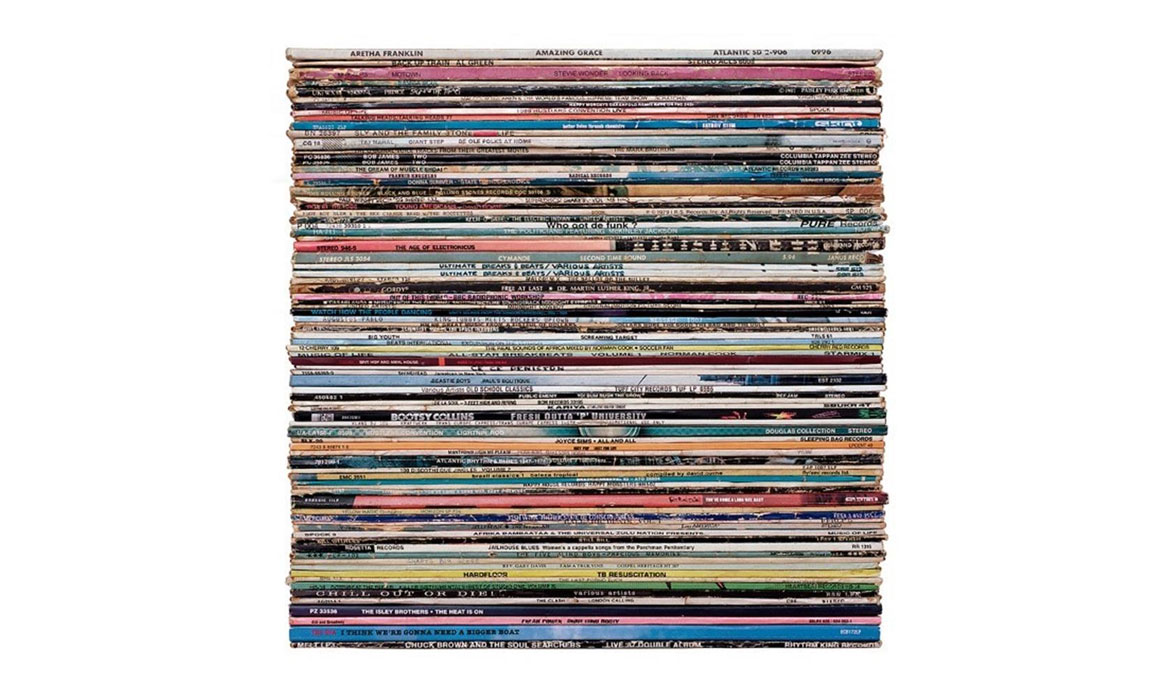 From a small edition of 15, Mark Vessey explores Norman Cook's personal record collection, featuring a selection that has both influenced and been created by the DJ himself. Printed onto fine art cotton rag paper, this C-Type print depicts a stack of Norman's LPs, neatly organised in a uniform fashion. An outstanding representation of fantastic artists and sounds, the meticulously organised stack is a mix of weathered LPs, reflecting years of enjoyment and some that look almost fresh-out-of-the cellophane.
Vessey explains: "My work is about trying to establish a sense of order. There is comfort in collecting things, studying things that people take for granted – grouping everyday objects into such a way that they become something special, seeing how they fit together to become a thing of great beauty".
His work has a very clear focus on collections. You could even go as far as to say that he is 'the' collector of all collections! In an interview with us, he explained: "Basically, ever since I've been in Brighton I've had an interest in people's collections. I have a hit list of people whose collections I want to shoot. There are always people that you're drawn to, and Norman Cook was one of those people. I love music and how it ties into everything culturally'.
There is nothing accidental about the way Vessey has stacked Norman's LPs. They are layered in a way that makes perfect sense and reflects Norman's personal soundscape, celebrating his long-standing global career in music.
Vessey said: "It's not just House music: there's blues, Beastie Boys, The Clash, Donna Summer... It's not one genre of music, and that's why I find it interesting. I was looking at what the spines said, how they fit together, how the colour moves throughout the piece of work and then it kind of came together. There are a couple of doubles in there… The Ultimate Breaks & Beats / Various Artists and Bob James. That's because when Norman was selecting them he told me: 'When I've put in two of them, it means when I was DJing, I had them both spinning at the same time.' I think it was important to respect details like that".
To find out more about 'Norman XL' and the print editions available at the Brighton gallery, visit the gallery or call us on +44 (0)1273 724829 to speak to one of our personal art advisors.
The Connor Brothers – 'Tell Me Beautiful Untrue Things'
Originally from a set of four large scale prints, 'Tell Me Beautiful Untrue Things' is another epic, film-noir style print from legendary artist duo The Connor Brothers.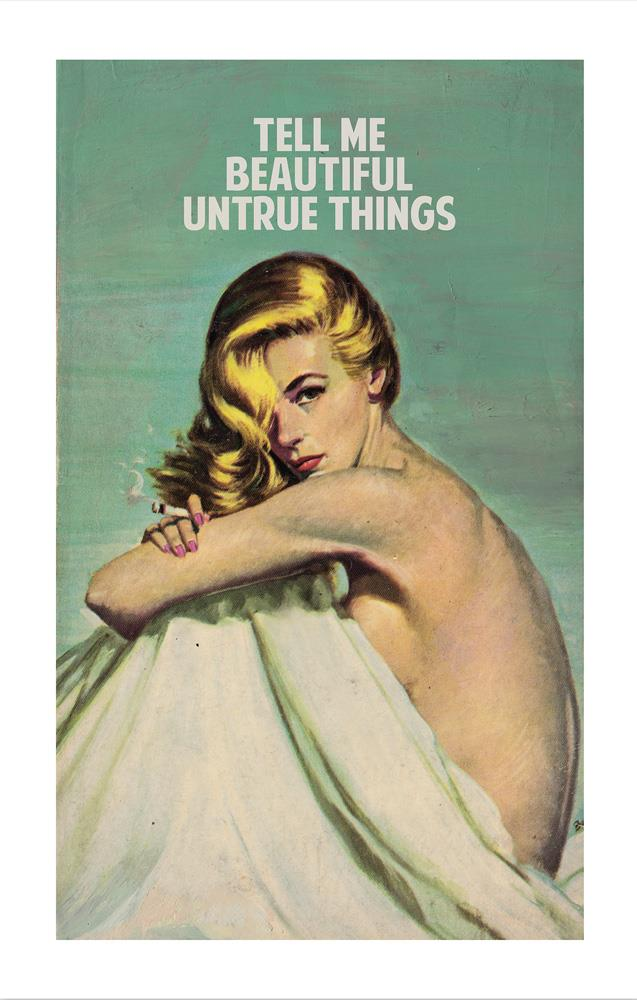 This unusual duo has somewhat of an interesting back story to share. Two of the prints from the original set of four have already sold out, and this one will be quick to follow. So, let's dive in!
First of all, we need to clarify that 'The Connor Brothers' are a completely fictional set of characters, created to offer the same kind of anonymity as Banksy and other unknown, big-name artists. True to the fictional theme, their satirical and humorous work blurs the boundaries between truth and fiction. The duo reproduce iconic book covers as large-scale acrylic and oil paintings, modifying the original titles and texts with their own words, changing the message whilst maintaining the context.
'Tell Me Beautiful Untrue Things' depicts a seductive, 1950s woman, her platinum blonde hair falling about her face, her soft, exposed skin wrapped loosely in white bed sheets. Set against a textured turquoise background, the title words have been printed in blocky, white lettering, recalling sultry film noir posters with a postmodern twist. A brilliant investment piece, The Connor Brothers are hot in the scene right now and perhaps, the most influential duo of the decade.
Just a few years ago, The Connor Brothers revealed their true identities in a major feature by Mick Brown for The Telegraph magazine. Since then, London based, James Golding and Mike Snelle have exhibited internationally from New York, Sydney and Dubai to London, Hong Kong and Berlin. One of their pieces made £5,250 at a Christie's auction in September 2013. In March 2014, after their big reveal, another of their works sold for £9,375, £3,500 over the estimated sale price. As a result, all pieces by The Connor Brothers are now highly sought-after globally.
To find out more about this piece and other works by The Connor Brothers at the Brighton gallery, call us on +44 (0)1273 724829 and speak to one of our personal art advisors.
Peter Blake – 'A - The Dazzle Alphabet'
From a collection of 27 glossy, box-set alphabet prints, Dazzle letter 'A' by the legendary Sir Peter Blake is now at its very glitzy, final price point. A print that won't be around for long, this is your opportunity to snap up one of Blake's most colourful, pop art wonder-pieces.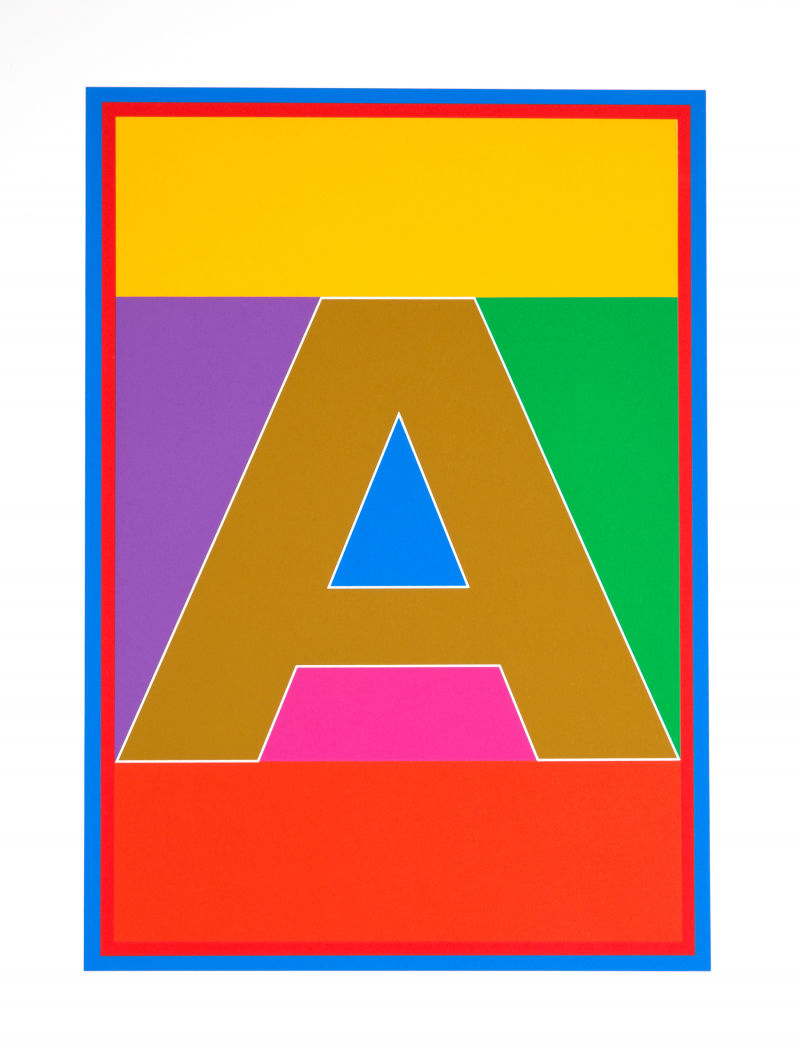 High gloss and high shine, this limited-edition print has a golden letter 'A', composed against blocks of bold colour, intersecting a kaleidoscopic array of dazzling pop perfection! This letter from the 'Dazzle Alphabet' is one of 100 silkscreen prints, signed by the artist personally.
Based upon Blake's early pop-styles, this metallic collection came about whilst developing techniques of the 'dazzle camouflage effect' – a World War One aid, adopted by the Navy to avoid enemy detection. The 'dazzle effect' consisted of complex patterns and geometric shapes painted onto warship vessels to confuse the enemy of their position. An incredibly effective distraction method, Blake developed this theory to embody a unique artwork aesthetic.
His colourful collection of 'Dazzle Alphabet' prints came after the success of his co-commission with Liverpool Biennial, WW1 Centenary Art Commissions and Tate Liverpool. Working in partnership with Mersey travel and National Museums Liverpool, he decorated the Mersey Ferry 'Snowdrop' in his 'Dazzle' technique to great effect. 'Everybody Razzle Dazzle' was the title for this extraordinary commissioned piece.
Blake's individual 'Dazzle' letters truly showcase his fascination with elements of nostalgia, childhood innocence and reminiscence. A print that's not to be missed, his letter 'A' is one of our favourites at the gallery.
Call into our Brighton gallery today for further information on any of the artwork featured or call us on +44 (0)1273 724829, best be quick though as these pieces are right at the end of their edition!