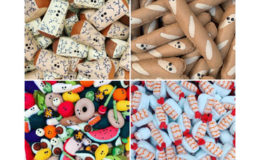 The queen of felt creates a wonderful collection of fruit & veg, meats & cheeses to delight visitors.
Having worked with felt from the age of 8, Lucy Sparrow's has mastered her craft to create fully immersive and art installations with a truly remarkable attention to detail. Charming and child-like, each piece is painstakingly hand painted in her UK workshop (or 'Felt Cave' as she calls it) to recreate everyday objects for a contemporary Pop Art feel.
She has worked on a number of large scale projects such as 'Triple Art Bypass' – a felt depiction of an emergency operating theatre and consultation room; 'Felt Art Imaginarium' - an ambitious felt recreation of over 70 famous works of art replicated to exact size and her innovative 'Cornershop' where visitors could pick up their essentials in felt form – bread, milk, chocolate bars, newspapers and chewing gum were all given a felt makeover.
Her highly anticipated next project, "Delicatessen On 6th" is soon to be unveiled at the Rockefeller Center, NYC. The display will be an impressive array of felt fruit, veg, cooked meats, cheese and bread as part of an upscale New York deli and all the pieces will be available to buy as part of the art experience.
We are delighted to stock some smaller pieces which can recreate the Lucy Sparrow experience in your own home;
'Such a Sad Time' - A selection of pieces from her 2018 exhibition, 'Sparrow Mart' held at The Standard, Downtown LA, 'Such a Sad Time' is a kitchen cupboard style installation of everyday consumables as touchable toys. Featuring recognisable favourites from Heinz ketchup bottles to Jif peanut butter jars; tins of corned beef and packets of pasta; mayonnaise and canned chicken.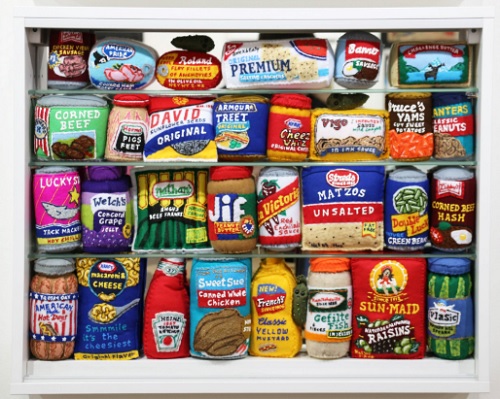 'His 'n' Hers' - A pair of bathroom cabinets, each containing gendered toiletries such as Brylcream, Viagra, and condoms for him and tampons, Canesten cream, and anti-ageing moisturiser for her. In true Lucy Sparrow style, the quirky artwork is celebratory of everyday items but also raises questions on the expectations placed different genders and how males and females are marketed differently in a consumerist world.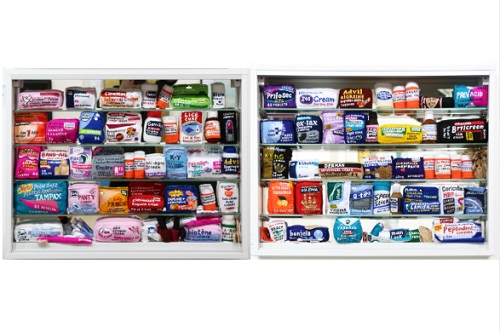 Each cabinet is a limited edition of 50 and comes with signed certificate of authenticity and signed 'Felt World' book.
For further information on these Lucy Sparrow pieces contact our Brighton gallery team on +44 (0) 1273 724829.