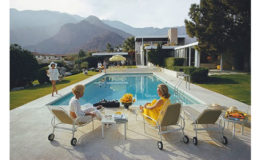 Slim Aaron's iconic photograph, 'Poolside Gossip' is still turning heads at 50.
To celebrate the 50th anniversary of Slim Aaron's iconic photograph, 'Poolside Gossip' we will be serving up classy cocktails with a collection of fabulous photographs by the legendary Slim Aarons as our glamorous gallery becomes a Poolside Party!
Add yourself to the guestlist at eventbrite
Photographing celebrities and wealthy people for over 6 decades, Slim Aarons has produced a body of work with a luxurious feel often mimicked in advertising to sell an aspirational lifestyle. He described his photographs as, "attractive people doing attractive things in attractive places."
'Poolside Gossip' perfectly encapsulates this aesthetic, as the dusty desert hills of Palm Springs contrast against a meticulously landscaped lush green garden and modern glass and stone house designed by famous architect Richard Neutra for Edgar J. Kaufmann. The woman in yellow, Nelda Linsk owned the home when the photo was taken in 1970. Her friend, Helen Kaptur, lounging in the white lace was married to mid-century architect Hugh Kaptur. The third women strutting towards them is actress, Lita Baron.
The elite wives and socialites with immaculate hair and outfits inspired the fashion world and 'Poolside Gossip' became a symbol of modernism with its combination of glamour and architecture.
Giving us a glimpse into the lives of the rich and famous, photographs by Slim Aarons are like time-capsules of a bygone era that can still spark as much envy and desire today as when they were created.
Learn more about how Slim Aarons went from military to celebrity photographer as our special guest, Matthew Butson, the Vice President of the Getty Images Hulton Archive which have been the official home of the Slim Aarons Collection for more than 20 years, presents a talk on the artist.
As well as a collection of classic Slim Aarons favourites, we will be showcasing some rare stamped editions, signed editions and Perspex pieces for the first time in the gallery.
Book your tickets at this unmissable event at eventbrite