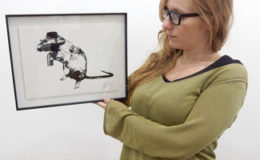 We've a hugely sought-after new piece by the Godfather of Street Art.
This new edition from Blek le Rat would have pride of place in any collection. Blek le Rat is widely regarded as the godfather of street art, having been the originator of the now hugely popular stencil graffiti technique.
This limited edition silkscreen print depicts a mischievous rat, one of the artist's most famous motifs, about to create some graffiti. No urban art collection is complete without an edition by Blek, and this one has already proved to be very popular.