We've hosted some pretty special events over the past six months, some big, some more intimate, but it was last Wednesday the 20th May that stands a head above for sheer enjoyment as the awe-inspiring Pop Art master and self-proclaimed 'Chiswick eccentric' Peter Blake wowed guests with a personal talk over dinner.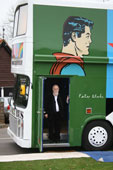 The event at High Road House (the Chiswick based members club owned by the Soho House group) marked the London leg of his touring double-decker Art Bus. As with the Brighton event, the weather could not have been more perfect as the bus rolled down the high street turning heads and enticing crowds.
The bus, which will tour the UK as an educational art centre, is adorned from wheel arch to roof with original artwork by Sir Peter Blake. It also features a fully fitted gallery and balcony on the top deck and a luxurious seating area and bar with state-of-the-art plasma screens on the lower deck. To see the Guardian Newspaper's film about the bus click here.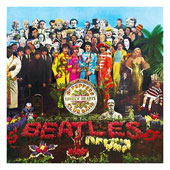 Those lucky enough to have tickets to the exclusive event were treated to the personal talk by Peter where he discussed a variety of subjects from his glittering history working with the bands on the many album covers he has created like Sgt Peppers, to his home of Chiswick and his relationship with it and even about the tricky subject of copyright avoidance in his work.
As well as the talk, Blake's appearance with the bus saw the release of the new limited edition version of his brand new book 'One Man Show' which, in addition to a special signed copy of the book, also includes a stunning signed and numbered limited edition silkscreen entitled 'Roxy 2'.
As the event drew to a close in the early hours I asked Blake whether, after all the interviews and press events and talks he has done over the years, he still gets nervous before speaking in public, to which he modestly replied that he does every time. An absolute gentleman and complete artist in our eyes.