We are very proud to once again be the major sponsor of visual arts at the 2010 Brighton Festival Fringe, one of the largest fringe festivals in Europe.
During May 2010 there will be over 700 events at more than 200 venues across Brighton and Hove. For many years we have worked with the Fringe to help promote the finest artistic talent from Brighton and beyond. This year we will be bringing Sir Peter Blake's spectacular Art Bus back to Fringe City on Saturday 15th May for a second year, find out more.
2010 visual arts highlights include:

Modern Toss 2010 Art Bucket
Ink_d Gallery
96 North Road
1st – 31st May
Get in the festival mood as the gents from Modern Toss bring you an assorted family size bucket of art. Knitted soft porn, talking 'Punctuation' screenprints, metal Modern Toss robots, classic character prints, original collages, a new selection of vintage cards and little letterpress pieces. Come and have a full scale gutbuster blow out at the 'Modern Toss 2010 Artbucket'.

Looking Sound LIVE Visual/Audio
Riki Tik
18a Bond Street
22nd May
A unique LIVE Visual Audio & interactive day/night event. LIVE artwork and VJ submissions will be created to bespoke soundscapes of DnB, Breaks & Dubstep with a private viewing and interactive session. Concluding with LIVE Video mix/scratch sets + VJ/DJ combinations. Artists include JFB, Rad!oSam, Blackmass Plastics, Fade In Fade Out, Jim Shimmer + more.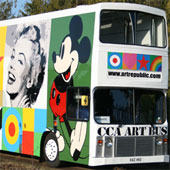 Sir Peter Blake's Spectacular Art Bus
Fringe City, New Road,
Jubilee Street and Jubilee Square, North Laine
15th May 2010
We are proud to present Sir Peter Blake, the pioneer of British Pop Art, bringing his spectacular double-decker Art Bus to Fringe City for a second year. View the incredible interior, featuring many of his finest prints, plus you could meet the artist himself!

The Beautiful and The Canned 2010
Jubilee Square
8th May 2010
Following the success of 2009, TBandTC returns to bring you an interactive two-day street art extravaganza featuring installations and live painting in multiple city-centre locations. Watch street artists at work in the centre of Brighton and enjoy the installations in Jubilee Square. Exclusive and collectable art work will also be available to buy.

International Childcare Trust Fundraising Art event
Madame Geisha
75 – 79 East Street
1st May 2010
A charity event bringing together some of todays most celebrated underground and established artists. Launching Geisha Arts, arguably one of the most exciting creative hubs/exhibition space to hit Brighton shores. Hosting a plethora of explosive events including live art workshops, live music and much more, with artist such as Zachary Walsh, Matt Small and Susan Shaw.
Visit the Brighton Festival Fringe website