The artrepublic Brighton gallery has paired up with the man they call the 'West Coast Warhol' to bring you an incredible collection of new prints, hot from the US.
Works from Richard Duardo's celebrated Downtown LA print studio Modern Multiples are now available at our Brighton gallery including exceptional new pieces by Saber and Shepard Fairey. Plus we've many more stateside artists, available through artrepublic for the first time:
• Fanatical painter Sage Vaughn
• Legendary album artwork designer John Van Hemersveld
• Reclusive street artist Becca
• Graffiti writer REVOK
• Avant garde illustrators Mark Dean Veca and Albert Reyes
• Sculptor Carmen Spera
• Plus The Date Farmers
Also available are iconic psychedelic pop prints by Richard Duardo himself. Dubbed the 'West Coast Warhol', during his 30 year career Duardo has published work for over 300 artists including Banksy, Blek Le Rat, David Hockney, Keith Haring and Ron English.
You'll need to be quick to choose the pick of the crop from this collection. We have very limited numbers (in some cases, just one) of each print.
Here are a few of the prints available now. Hotter than a City of Angels sidewalk and infinitely better to look at: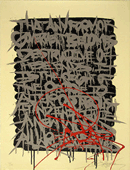 Saber
Legendary LA graffiti artist Saber's new signed limited edition is a revolt-provoking chunk of the Declaration of Independence. Know your rights people!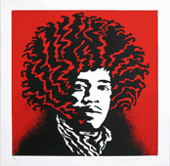 John Van Hemersveld
John Van Hemersveld designed, among others, album covers for The Rolling Stones' Exile on main Street, The Beatles' Magical Mystery Tour, Blondie, Jefferson Airplane and Kiss. Check out these signed, limited edition silkscreen prints of his iconic Jimi Hendrix poster, made for the star's 1968 Pinnacle Concert.
Sage Vaughn
Much respected, fanatical painter Sage Vaughn's beautiful, signed, hand-finished prints 'Los Maloses' and ' Butterfly Ring' are part of his wildlife series concerned with the interface between man and animal. (picture of Los Maloses). Sage has exhibited throughout the US and Europe, most notably to great acclaim at New York's Dactyl Foundation.
Becca
Also look out for 'Firecracker Girl' by reclusive LA street artist Becca, whose work is collected by Leonardo Di Caprio, Leonard Cohen and the Getty family.
Other Modern Multiples masterpieces available in the Brighton Gallery include LA graffiti artist REVOK'S 'All You See is Crime in The City' signed, limited edition print and Carmen Spera's hand-pulled silkscreen reproductions of his life size Cartier RPG glass sculpture.
artrepublic is part of the history of Enter Gallery, find out more.