A collection of artrepublic's finest artists joined ranks with the best from the worlds of fashion and music for a funfair-themed night to raise money in support of the British Heart Foundation's Mending Broken Hearts Appeal.
It was all very glamorous, and we expected nothing less, as the billing promised the greatest names from the worlds of fashion, art and music for a night featuring games, performance art and live music sets in support of the Mending Broken Hearts Appeal.
Some of artrepublic's best-known artists headlined for the art auction including Damien Hirst, Dan Baldwin, Duggie Fields and Sir Peter Blake. Artist's such as Rob Ryan, Brad Faine and Antony Micallef all contributed works too.
The event was hosted in part by famed yBa artist Marc Quinn with Sotheby's auctioning the artwork.
Aside from the art there were a host of other events... To describe the setting, think underground basement, funfair games, add a thousand balloons, red atmospheric lighting, some slightly mad looking performers, two bars, hundreds of canapés, a DJ booth and an actual 'tunnel of love' formed from huge hearts filled with art, dresses, shoes, hats and jewellery for the auction.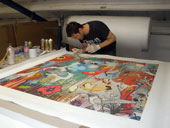 All of the proceeds from the Tunnel of Love party supported the Mending Broken Hearts Appeal. At the moment, there's no cure for a broken heart. Once your heart muscle is damaged by a heart attack, it can never fully recover. But there is hope. The BHF aim to spend £50 million to fund groundbreaking research that could begin to literally 'mend broken hearts' in as little as ten years.
As part of the Mending Broken Hearts Appeal there has been a special silkscreen art portfolio produced. Volume I of the Mending Broken Hearts portfolios: 'Breath of Life', comprises of 15 original limited edition silkscreen prints by a unique group of Britain's leading contemporary artists. Each artwork has been created around the theme of 'mending broken hearts'.
artrepublic is part of the history of Enter Gallery, find out more.