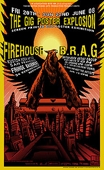 In association with artrepublic and ink_d the Brighton Fringe arts production will host 'The Gig Poster Explosion' an exhibition of screen printed gig posters.
For this event BRAG (British Rock Artists Group) are playing host to the FIREHOUSE KUSTOM ROCKART COMPANY from San Francisco on the Brighton leg of their incendiary rock art poster tour.
This exhibition features some of the finest screenprinted poster work coming out of the UK, by some of the UK'S most talented and prolific artists alongside posters from some of the legends of the American poster art scene. Prepare to be stunned by these incredible posters, at this rare meeting of two amazing poster collectives.
The UK has been experiencing an explosion of rock poster art hitting the streets from screen-printing studios that seem to be springing up in all sorts of locations including garages, warehouses and basements. England is currently witnessing a new pedigree of artist -- clearly there is something cool happening here.
"I came to England, explains Chuck Sperry, in May of 2006 to teach a workshop at the Brighton Fringe Festival. My British students were so talented and excited about making rock posters, they formed the Brighton based poster collective BRAG and this in turn really fired me up, and made me want to come to England to see all the great art and music that's going on here. That's when we began planning this tour."
BRAG Formed in 2005 as a result of having all met at a master class taught by Chuck Sperry during the SUBSCREENSONIC exhibition of 2005. Such was the groups' enthusiasm and passion for making and designing limited edition screenprinted gig posters we formed BRAG (British Rock Artist Group).
Brag have gone on to exhibit in Europe, the UK and the USA, and produced posters for bands and musicians such as Gallows, Iron and Wine, Queens of the Stoneage, Explosions in the Sky, Bonde do Role, Ian Brown, Orange Goblin, Devo and many more. BRAG won Best Open House award at the Brighton festival 2008.
FIREHOUSE San Francisco printers based on the partnership of of two master screen printers, Chuck Sperry and Ron Donovan. Ron and Chuck's works are easily recognizable by their unique style of color theory, characterized by the use of metallics over striking colors. Their unique printing technique has won them the attention of the experts in the printing profession and they were included in Print's Regional Design Annual 2002.
Sperry and Donovan have created a much sought-after series of posters for Virgin Megastore (including Pearl Jam, Fleetwood Mac, Rolling Stones, The Beatles, Smashing Pumpkins, Beastie Boys, U2, and Hole). Other posters have been produced for such legendary performing artists as Queens of the Stone Age, Dirtbombs, Eric Clapton, Madness, Jane's Addiction, Supersuckers, Garbage, Bad Religion, Johnny Cash, John Lee Hooker, Lee Perry, Cheap Trick, X, among many others.
The exhibition is in Brighton from June 20th-22nd at - The Basement gallery Argus Lofts, 24 Kensington St, Brighton, East Sussex, BN1 4AJ and Output Studio 50 Providence Place, Brighton, UK.
artrepublic and Ink-d are part of the history of Enter Gallery, find out more.