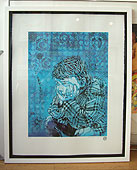 French graffiti artist Christian Guemy a.k.a C215 came to our Brighton gallery last week to sign an exclusive limited edition silkscreen print published in association with artrepublic.
The hand embellished silkscreen print 'Blue Nina' was released on our website last Wednesday 25th June and had sold out by Thursday evening. Nina is C215's daughter and the subject of much of his artwork. If you missed out don't worry, we have a couple of framed prints STILL AVAILABLE and wonderful originals on paper, card, aluminium and wood.
C215 didn't stop at just signing the prints. He also managed to find time to do a superb piece of art on the side of the gallery and do a few other bits around the streets of Brighton, which have been spotted since his departure! This just reinforces his reputation as one of the most active stencil artists on the streets today.
If you are a follower of urban art you may have seen his work at the now infamous 'Cans Festival' where an unused road tunnel in South London was transformed into a cutting edge exhibition space by some of the world's top graffiti artists and was organized by one of the most famous graffiti artists in the world today; Banksy.
Another artist whose work appeared at the Cans Festival is Italian duo Sten & Lex who are friends and contemporaries of C215. We have been chatting to them about a possible limited edition print, so watch this space!
If you are interested in stencil based graffiti you might like to know that we have a fantastic book 'Stencil History X' which was published by C215 and partner Samantha Longhi and documents the history of stencil graffiti in Paris since the 1980's.
artrepublic is part of the history of Enter Gallery, find out more.