artrepublic is very proud to once again sponsor visual arts at the 2013 Brighton Festival Fringe, one of the largest fringe festivals in Europe.
This year the Brighton Festival Fringe runs from 4th May to 2nd June with over 685 events at 178 venues across Brighton and Hove. artrepublic has worked with the Fringe for many years to help promote the finest artistic talent from Brighton and beyond and this year promises to be another fantastic selection.
Fringe City
Fringe City will take place every Saturday in May and the first Saturday in June. With everything from comedy to cabaret and puppetry to poetry, this free outdoor event, showcases the wonderful world of Brighton Fringe.
This year artrepublic is involved in two events at Fringe City:
Peter Blake Art Bus 4 May (12 – 4) - New Road. All aboard! The sensational double-decker Art Bus returns to Fringe City this year. Take a tour and view stunning artwork inside & out from the godfather of British pop art.
2013 artrepublic Visual Arts Prize Exhibition 1 June (12 – 4) - Unitarian Church. View the shortlist and winner of the 2013 artrepublic Visual Arts Prize. Find 'artrepublic' on Facebook during May and cast your vote for who should win the prize.
Other 2013 visual arts highlights include: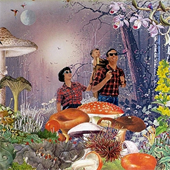 ink_d gallery presents Back To Nature - Maria Rivans at Ink_d Gallery & Studio. Maria Rivans invites you into her fantastical world by converting ink_d gallery into a jungle environment, transporting us physically into her surreal world in which to explore her humorous and bizarre 3D collages. Rivans' solo show explores the idea of a growing estrangement from the natural world, and attempts to reconnect us with nature. Warning! Expect a sensory overload.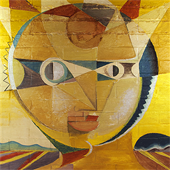 Home of the Surrealists presents Farley Farm House at Farley Farm House. Experience the extraordinary atmosphere of the Sussex home of Surrealists Lee Miller and Roland Penrose, whose friends and guests included Picasso, Man Ray and Miró. 50 minute guided tours of house throughout the day.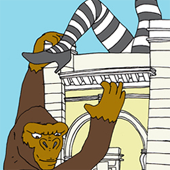 Carlos Garde-Martin presents Brighton Fringe Illustrator Takes Over North Laine at The North Laine Pub. Carlos Garde-Martin this year's Brigton Fringe illustrator adorns the walls of Brighton's North Laine Pub and Brewery with a must see collection of his unique off-the-wall imagery. Launching Saturday the 4th of May and running the whole festival. Why not kick-start your Fringe in style? The pub will also be launching their own Fringe Festival Ale!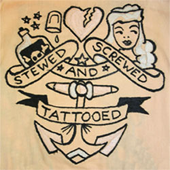 Jenny King Embroidery/Beyond Retro presents The Embroidered Tattoo Parlour at Beyond Retro. Experience couture craftsmanship as you witness your chosen tattoo embroidered on the garment of your choice on our 1950's machines in a perfect vintage setting in-store at Beyond Retro Brighton. Choose from a classic swallow to a personalised rose on to the shirt off your back or choose from an array of dazzling vintage items on the rails of Beyond Retro Brighton.