31st July, 2008 saw the highly anticipated first birthday party at artrepublic's London space in Soho.
We had an exclusive print release from Italian street artists Sten & Lex, entitled 'In Aeternum Gloriae' - following on from the duo's success at the recent Cans Festival. The edition and the superb XL version of this print proved to be extremely popular on the night.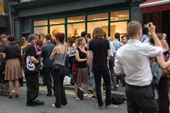 Customers spilled out onto the street and when they could get into the gallery they were rewarded with a fantastic selection of previously unseen artworks including 2 Miss Bugs originals which were snapped up in a matter of moments. One of these 'Mucha Poison Girl' was sold in aid of the Alzheimer's Society.
C215 sprayed an amazing piece entitled 'Nina Sitting' and was executed on a reclaimed, polished piece of yew and was definitely a highlight of the night.
Gallery favourites such as Peter Blake, Blek le Rat, Charming Baker, Faile and Banksy were also on show and true to form artrepublic were championing some fantastic new talent. Three amazing new street signs from the prolific Mighty Monkey were on show along with a piece by up and coming artist The Krah, fresh from his show in Brighton.
Not only was the evening a huge success where our regular customers were introduced to some great new artwork; it was a great chance to get everyone together. We were also pleased to welcome some new faces who we hope to see again soon.