We have just got in some bright and beautiful canvases and limited edition prints by London based artist collective Static.
The Chinook Chandelier canvases have bold colours and op art influenced patterns in the background. Each one is a unique design, using from 3 to 5 stencil combinations. The perfect thing to brighten up your walls in this grey winter whether.
Fans of Static can also find framed limited edition prints in our Brighton gallery including 'Chinook Chandelier' 'Corridor of Uncertainty' and 'Fortunes Fated'.
For the most up to date details of what we have in stock call us on +44 (0)1273 724829.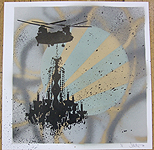 Static are a group of artists with backgrounds in fine art and graphic design who combine their varied experiences of all forms of art design and media in their work. They are inspired by social and environmental issues with a desire to make the view of their work look at the everyday word in a new way.