Press Release
10th April, 2008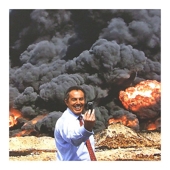 Sold out in most other UK galleries, Peter Kennard and Cat Picton Phillips' politically charged Photo Op is just in at artrepublic, purveyor of fine rare prints and limited editions from the raw underbelly of the British urban art scene. The shot appeared in many daily newspapers and on Channel 4 News after London paper the Evening Standard reported that Downing Street tried to ban it.
Photomontagist Peter Kennard and collaborator Cat Picton Phillips are the unofficial war photojournalists of our time. Producing politically charged images that capture the zeitgeist of the moment, Photo Op is a much sought-after raw interpretation of a difficult period in UK politics during the 'war on terror'. Kennard and Picton-Phillips have taken the shot of the last Labour Prime Minister Tony Blair taking a photo of himself with a mobile phone camera - originally in front of a group of students - and set his smiling pose against a fiery backdrop of a burning oil field.
The result is an arresting piece of art, a visual representation of anti-war sentiment taking the original innocence of a moment and ruthlessly subjugating it to question the reliability of media information and the portrayal of politicians and their celebrity amidst such incredible devastation.
ENDS
Peter Kennard Biography
Born in London in 1949, Peter Kennard's work hangs in the Tate, V&A, Imperial War Museum and the Science Museum in London. He is a Senior Tutor in Photography at the Royal College of Art and his work is internationally known. His work directly addresses his concerns with conflict, war, weapons, liberty and the environment. His anti-Iraq war images were central to the Santa's Ghetto exhibition in London, 2006 and both he and Cat Picton Phillips were part of the Santa's Ghetto in Bethlehem, 2007 which raised nearly $1,000,000 for 30 university places for children from the area as well as the Wi'am Project helping the community.
Notes to Editors
artrepublic established its first gallery in 1992 in the heart of Brighton's North Laines. Its second gallery 'artrepublic at tomtom' is in the heart of London's Soho. artrepublic features rare, collectable, cutting-edge art prints, limited editions, silkscreens and giclees from contemporary artists such as Banksy, Jamie Reid, James Cauty, Sir Peter Blake and Jamie Hewlett alongside popular artists such as Warhol and Lichtenstein. www.artrepublic.com has an extensive choice of art prints all available with free delivery worldwide.
The gallery also offers a bespoke framing service with a huge choice of mouldings and expert advice on hand and the website offers a large selection of quality frames delivered free throughout the UK.
artrepublic is part of the history of Enter Gallery, find out more.