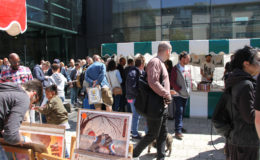 We'd like to say a big thank to everyone that attended last Sunday's Art Yard Sale and to all the artist's for providing fantastic, inventive and affordable artwork on what was a truly memorable day. After last year's wet and windy event we were due some good weather and low and behold we got it, with a day of endless sunshine.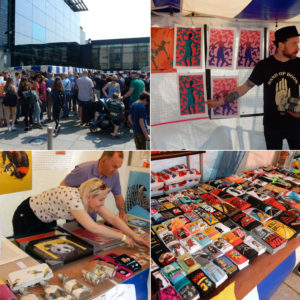 There was a palpable buzz around town from early on the Sunday morning with eager art fans queuing up outside our Brighton gallery tochange their cash for artrepublic currency.
As the clock struck 11am the Yard Sale was open with excited collectors running (yes running) into the bazaar of contemporary and urban art, eager to hunt down some bargains.
This year's expanded format saw the inclusion of nearly double the amount of artists compared to the 2015 event, with newcomers including the likes of Ben Eine, Magda Archer, Seb Lester and Louise McNaught.
Like a repeat of last year stencil and spray paint maestro Eelus was inundated with visitors keen to pick up his low run print editions and new works. With the help of the Private Press Eelus created brand new prints live on the day, expertly hand-finishing the editions before the eyes of the enthralled public.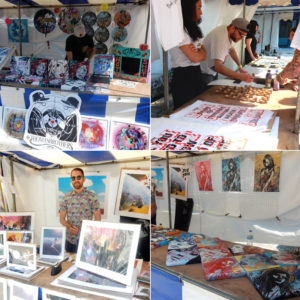 Typographic street artist Ben Eine had a 'Brighton Rock' edition for sale that had been printed onto posters bearing The Argus newspaper's uniquely quirky headlines. The street art supremo was also creating customised prints using a set of A-Z letter stamps made with his signature circus font.
Star of last year's event Pure Evil held a daylong work with children attending the Yard Sale, who were invited to customise his iconic bunny tags on paper with a selection of coloured pens. Parents were then able to buy the works, each a unique collaboration with the one of the world's biggest street artists.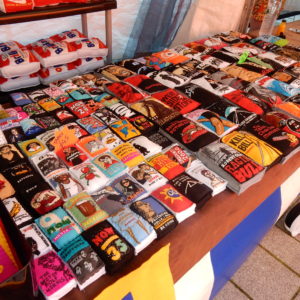 Lucy Sparrow well and truly embraced the car boot spirit by creating a wonderful stand of felt VHS tapes, magazines and evens tins of spam. The felt queen was also on hand all day to customise her creations by dedicating them to the buyers.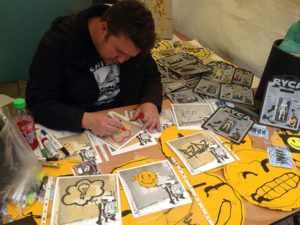 RYCA aka Ryan Callanan was spreading his acid house inspired happiness on the day with a double stand of new, affordable works. Many visitors snapped up his wood painted smiley faces, with members of the artrepublic team all sporting his gold Biggie Smalls and silver Andy Warhol necklace pendants. His art toys also went down a storm with the public.
So there we have it the 2016 Art Yard Sale, another roaring success and we've already begun looking forward to next year's instalment. In the meantime watch this space for more artrepublic events to take place.
artrepublic is part of the history of Enter Gallery, find out more.