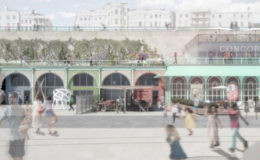 The campaign aims to preserve one of the town's most iconic areas.

We are very pleased to announce that artrepublic has pledged £500 towards 'Save Mederia Terraces', a fundraising initiative that aims to save the Grade II-listed structure on Brighton's seafront.
The well-known cast iron arches stretch half a mile along the promenade and require a £24m investment to avoid further irreparable damage. The campaign aims to raise £430,000 for the crucial proof-of-concept fund required before further widespread investment.
This money will go towards fully restoring at least three arches while asking the people of Brighton how they'd like to see the other arches used and drawing up plans including various pop-ups.
The terraces are particularly important to artrepublic Brighton as they've homed several emerging local artists over the years, who have gone on to great things and sell prints through our Brighton Gallery.
We see the new development as a wonderful way to enrich the area and continue to provide artists with the space they need to manifest work, as well as presenting an exciting opportunity for local businesses.
The project promises to utilize the city's creative energy with the intention of transforming the area into a hot new must-see destination.
After three weeks over 600 backers have pledged £140,000 and momentum continues to build towards the goal.
artrepublic is part of the history of Enter Gallery, find out more.