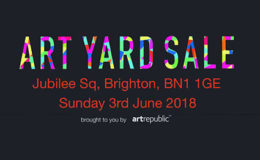 From street artists to selling art on the streets of Brighton, close out your Festival experience at this year's Art Yard Sale.
The Brighton Festival and Brighton Fringe Festival 2018 may have only just started, but if we know anything about these two annual arts events - which are among the biggest in the UK - it's this: they fly by. You barely get your hands on the programmes and circle the things you want to see, before the tickets for all the art, comedy, theatre and family events have flown out the doors of the ticket office… and taken both of the May Bank Holidays and David Shrigley (this year's main Festival guest director) with them.
So, with that in mind, consider this your five-minute (or three-week) warning: The annual Art Yard Sale is back on 3 June, and we're planning to close the 2018 Brighton Fringe Festival on a high.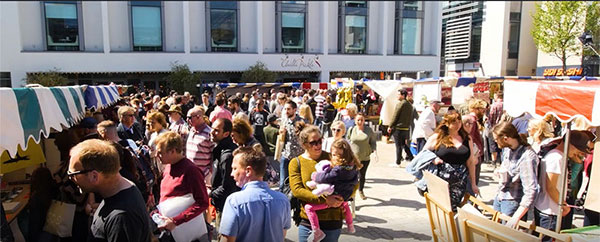 If you've never been to the Art Yard Sale before, this is what you have been missing… The opportunity to buy contemporary art, direct from the artists who create it, all in a fun, family-friendly environment in Brighton's North Laine. Yes, you get to meet the likes of Bonnie and Clyde, Dan Hillier, Eelus and a whole host of other artrepublic favourites, have a chat with them and buy their work. And better still, all of the artists who participate are sharing (and selling) artworks and prints that have either been created specifically for the Art Yard Sale event, or are being sold at a one-off reduced price that you won't find anywhere else.
The unique art event was started in 2015 after we at artrepublic, the main visual art sponsor of Brighton Fringe Festival for many years, decided it was about time we ran our own event. 'We wanted a way to get involved in the energy of the Festival season ourselves,' says Lindsay Alkin, the event's founder. 'The result is the Art Yard Sale, which fits perfectly with the local, hands-on, creative ethos of the Fringe.'

The line-up of artists changes each year, so you won't get the same experience twice, but there is never a shortage of creatives from the artrepublic family who want to get involved.
For us, it's all about embracing the festival spirit and sharing new things.
'We aim to bring you a really broad selection of art – from street art to illustration to sculpture – so people can discover new artists and types of work that they may not have thought about before,' says Lindsay. 'It sounds really cheesy, but it's genuinely amazing to see all these people coming to the Art Yard Sale and leaving with a big smile on their faces because of art. That's what it should do.'
This year's lineup is yet to be finalised, so keep an eye on our upcoming blogs, the Art Yard Sale website
artrepublic is part of the history of Enter Gallery, find out more.