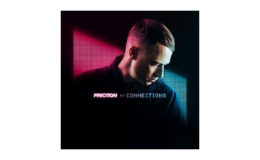 A not-to-be-missed event for drum & bass fans, catch up with Friction as he launches his new album at our gallery.

On 20th September 2018 (6pm to 8pm) our gallery in Brighton will host an album launch by Friction. This critically acclaimed drum & bass producer / DJ and Radio 1 presenter launches 'Connections', his highly anticipated latest release. Register for your FREE guest list tickets today.
This project also sees the artist RYCA (Ryan Callanan) collaborate with Friction on a limited edition print inspired by his album cover.
Ryan Callanan (AKA RYCA) has a history of being involved in music and represents his love of it through his art from Tupac to the acid smiley faces synonymous with the acid house scene. He has also collaborated with Fatboy Slim in the past.
On the night there will be a DJ and limited RYCA prints available from our gallery at a special price, in addition to the album and t-shirts.