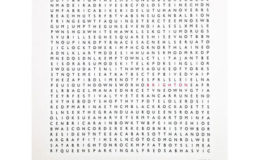 We asked the local creative to puzzle out a few of our questions.
The first crossword puzzle was designed by Arthur Wynne and printed in the New York World in 1913, the earliest word search is credited to Spanish puzzle maker Pedro Ocon de Oro in the first half of the 20th century and Sudoku… well that's got a non-Japanese heritage that goes back far further than the early Noughties brain-training craze. Graphic artist Clive Sefton has created his own play on the soup of letters – the original name for a word search – and it's one that has the ability to ignite a similar warm, glowy feeling to the one you get after completing an energising workout. We'll let the artist himself explain that one. As he prepares to host the November Kids Club, we caught up with Sefton to talk typography, noticing hidden details, the challenges of long words and all things puzzle-based.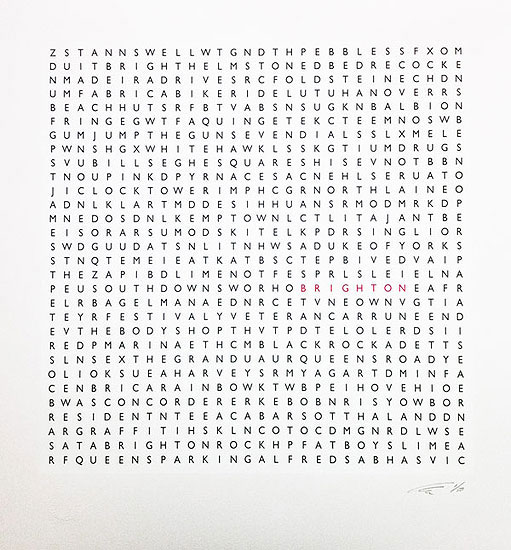 Word searches, mazes, diamond hunts – all of your artworks are highly structured finished pieces, but also playful starting points. Is there a hidden life lesson in here for us?!
With a background in graphic design, I like clean, minimal design and good use of white space. I also enjoy artwork that people can interact with and that brings a smile to their faces. In creating my work I've discovered that finding a word or the correct path through a maze releases dopamine, the reward chemical, so people actually feel better for looking at my work!
With 'One In A Million', I love how people can view it so differently. Some people spend ages looking for the diamond, some people almost don't care where the diamond is, and some people are more interested in the process or how much the diamond cost…!
Speaking of 'One in a Million' – how do you decide where to place each diamond? Is it random or incredibly specific?
I place the diamond in a random place in each one, though can position it in a specific place in a commissioned piece. This might be the coordinates of a geographic location or relate to a specific date. Only the person who owns the piece has the coordinates of where the diamond is hidden.
While we're on the topic of pathways and finding things, can you talk us through your route to becoming a full-time artist?
I did a silkscreen printing course with Jane Sampson. Initially I was printing pictures of prawns and crabs but in exploring what I am interested in, specifically typography and 'accessible' artwork, the first 'Brighton Word Search' came about.
I did the course just after reading 'Rich Dad, Poor Dad' by Robert Kiyosaki and Sharon Lechter so, as well as really enjoying doing the course, I did have this thought in the back of my mind about how good it would be to be able to make back the money that I had spent on it. The difficulty is taking the step to show your work to people you don't know, as it's only then that you can tell if people want to buy it.
We're lucky in Brighton: we have so many opportunities to show our work with little cost up front, and there are so many artists and art buyers around. I first exhibited the Brighton Word Search in an Artists Open House and as well as selling all of the edition, I received my first commission.
Since then I've learnt so much and created different work, but I'm still creating Word Search pieces for people of all ages, and across the world.
Your images encourage people to deeply engage with the artwork – to hunt out the details or hidden pieces. What do you find yourself focusing on or looking at closely in art or life?
I love finding faces and animals in everyday life, apparently a phenomenon known as pareidolia. I had an idea a few years ago based on creating images from discarded chewing gum but that hasn't quite seen the light of day… I also love repeating patterns and grids, whether it be lines on shutters, flyers posted on a wall or even just a sheet of labels!
On the flipside of that, are there any things you avoid focusing on at all costs?
I'm a bit of a perfectionist so many ideas get parked if it's not quite right.
The longest word in the dictionary is 45 letters long (and a bit of a misery, as it goes) – how big would one of your word searches have to be to hide that monster?! And would you want to work on that scale?
I must admit I had to look up what the word is! A square piece with Pneumonoultramicroscopicsilicovolcanoconiosis it would require over 2000 letters in the complete piece – not too much of a problem for a print, but quite a bit of time to make using fridge magnets.
What is the most complex piece you've worked on to date? And can you give us any hints at upcoming projects we might want to look out for?
I've just created another word search commission using fridge magnets, which I really enjoyed making. I'm also working on another edition of 'One In A Million' as the original was so well received.
Finally, you're hosting the Kids Club in November. As a kid, what was your favourite activity and has it ever come into play in your work as an adult?
I used to really enjoy making small FIMO models that I sold to craft shops for window displays, usually in return for free FIMO!