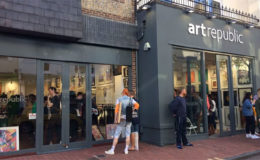 The first of a series of exciting launches for our Brighton gallery, our new space is just the tip of the creative iceberg. Want to know what else we have in store for you? Read on...
We have been a fixture on Brighton's Bond Street for 25 whole years, can you believe it? So we kicked off our silver anniversary at the start of this year's Brighton Festival/ Brighton Fringe Festival with the launch of our brand-new gallery area.
Expanding next door to double the gallery space – both floor and walls – means that we can commit even further to doing what we do best: finding, showcasing and sharing art by the best emerging and established artists out there.

And what better way to open than with a big old party, complete with the unveiling of a brand-new sculptural edition by Magnus Gjoen, There Are Some Dead Who Are More Alive Than The Living, created exclusively for us?
It was lucky we had all that extra space as the gallery was packed; a number of our artists dropped in for a drink with our team, as well as new and existing customers, and Brighton local Norman Cook (aka Fatboy Slim).
If you didn't make it down to the opening, you can drop by to see us and check out our current lineup any time. The whole gallery has been spruced up and rehung, and you'll now find a series of originals alongside our ever-changing collection of limited-edition prints, many of which can be bought using the Own Art scheme – just ask one of our art advisors for more information if you're not sure.
But that's not all, not even by a long shot. We have this new space to play with, and we want to share it with you all. So we're planning a monthly programme of creative events and art-related happenings, from kids' art workshops led by professional artists to true storytelling evenings with Spark, who host regular events in London, Bristol and Glasgow.
We'll be sharing more details of each of our upcoming events with you soon, so you can get the dates in your diary, book your place and join in the fun.
We don't want to overload you with information, but if you have any questions about our new gallery, upcoming events or want to discuss our podcast, drop by the gallery or call us on 01273 724829 to speak to one of our art advisors. 
If you subscribe to our newsletters, keep an eye on your email inbox (as well as on the blog) for more updates as we have them.