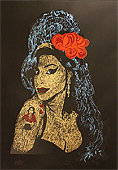 A fitting tribute to a musical icon, Screen Prince's new print of Amy Winehouse is a stunner. Hand screen-printed by Screen Prince with oil based inks on somerset Black Velvet 280 gsm paper.
As in all of his work, the image is made up of the lyrics to the songs. The gold text is the words from "Love is Losing Game, the Red from "Valerie" and the Blue/Black from "Back to Black". The artist states "I wanted to make a portrait that made Amy an icon of singing/ song writing and a direct contrast to the portrait of her created out of pills by Jason Mercer, making her an icon of drugs".
Check out the Brighton gallery if you are interested in this beautiful print of Amy Winehouse or any of his other prints.