Press Release
28th May, 2008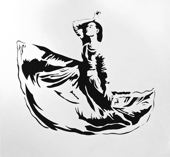 Anyone who knows their stuff about street art will hold the Parisian graffiti artist, Blek le Rat in the highest regard. Born in 1951 in Paris, he is considered by many to be the grandmaster, the creator 'absolu' of stencil graffiti as we know it today.
In 2005, the British graffiti artist Banksy, whose canvases today command six figure price tags, quoted that every time he thought he'd painted something slightly original, he found out that Blek Le Rat had already been there, done that. "Only 20 years earlier." Banksy's work is often a homage to that already done by le Rat.
The Rat invasion
Blek Le Rat created the stencil scene in the early 80's on the streets of Paris and has been pushing the boundaries of graffiti art ever since. Inspired by New York's graffiti scene in the 70's and by WWII propaganda, where Italian fascists would stencil pictures of Mussolini, Blek Le Rat (real name Xavier Prou) moved away from traditional tags and started out with a simple rat stencil, of which he painted thousands on the city's streets. From there he moved into figurative work documenting homelessness, poverty as well as mixing up styles and genres, with works such as David with Kalashnikov and Space Cowboy.
Getting Through The Walls
Just released to celebrate the publication of his new book 'Getting Through The Walls' – the first and only collection of his work extensively photographed by his wife, Sybille Prou - and a major exhibition of his work in London, we have two new Blek le Rat prints that have already sold out with the publishers, available at both our London and Brighton galleries.
Dancer
This stunning monochrome print of a dancer is a sleek, modest and graceful piece that captures the essence of the artist's stencilling ability.
Running Man
A rare 3 colour silkscreen on Moulin de Gue paper, showing the clean simple lines that form part of Blek le Rat's superb iconography. A not-to-be-missed piece.
A little bit more about Blek le Rat
Creating his name from a cartoon strip he used to read as a child, 'Blek le Roc', about an American animal trapper fighting the invasion of the British Army, he changed the 'le Roc' to 'le Rat' because his first stencil was a rat - and because you can find art in 'rat'. After having to pay substantial fines in the early 90's for his graffiti, he moved onto paper.
He was tried in France in 1991 for 10 years worth of graffiti – lest we forget it's still illegal – and had to pay substantial fines. The only walls he now paints are part of organised group events such as London's recent Can Festival in May 2008, alongside many other names from the scene.
Blek le Rat lives in a remote 10th Century castle somewhere in the French countryside with his wife and teenage son.
A little bit more about our gallery
We established our first gallery in 1992 in the heart of Brighton's North Laines. Its second gallery was in the heart of London's Soho. We feature rare, collectable, cutting-edge art prints, limited editions, silkscreens and giclées from contemporary artists such as Banksy, Jamie Reid, James Cauty, Sir Peter Blake and Jamie Hewlett alongside popular artists such as Andy Warhol and Roy Lichtenstein. 
The gallery also offers a bespoke framing service with a huge choice of mouldings and expert advice on hand and the website offers a large selection of quality frames delivered free throughout the UK.