The 26th edition of London Art Fair will officially launch the art world year in the UK. The Main Fair will bring together over 120 leading galleries from across the UK and overseas presenting exceptional modern British art alongside contemporary work produced by both established artists and new emerging talent.
Our sister gallery ink_d promise a spectacular return to this year's Main Fair. Established in 2007, ink_d show the cream of collectable and afford art, with a diverse range of painting, prints, sculpture and ceramics. The gallery has a strong ethos that supports and nurtures local talent alongside rising stars and established artists.
The ink_d London Art Fair stand (G12) will be showing many new and exclusive works from artists including Carne Griffiths, Carrie Reichardt, Gary Smith, Ian Hodgson, Jake Wood-Evans, James Cauty, Lidia de Pedro, Maria Rivans, Matt Smith, Mike Ballard, MissBugs, Paul Scott, Sam Hewitt, Sarah Shaw and Stanley Donwood.
As well as the friendly ink_d staff artrepublic director Lindsay will be at the Fair all week. She will be on hand to offer advice about collecting, investing, framing, and all things fine art. Lindsay and ink_d look forward to showing you the best of British art from a unique Brighton gallery at this year's major art destination.
New features of the London Art Fair in 2014 include the Fair's first museum partnership, which sees The Hepworth Wakefield present a unique exhibition of British Modernism. Head of Collections at The Hepworth Wakefield, Frances Guy is curating an exhibition focusing on works by Barbara Hepworth and her contemporaries, 'Barbara Hepworth and the development of British Modernism'. Housed in a pavilion at the entrance of the Main Fair, the exhibition will provide a significant opportunity for patrons and collectors to engage with a presentation of exceptional museum quality works.
A new 'Dialogues' section will also launch this year. Curated by Adam Carr of MOSTYN to mark the 10th edition of the critically acclaimed Art Projects section, it features collaborative presentations between invited UK and International galleries. Many of these galleries and artists are working together for the first time and the section promises unique, shared presentations featuring the freshest contemporary art from across the globe.
Photo50, the Fair's annual showcase of contemporary photography returns for 2014. Entitled 'Immaterial Matter', this year's exhibition is curated by Charlie Fellowes and Jeremy Epstein and examines the increasingly indiscernible distinction between the digital and the material.
The London Art Fair is a fantastic opportunity to enjoy exceptional art from over 1,000 leading artists in one location. On the Thursday 16th January the doors will be kept open until late, giving guests the chance to browse art work while enjoying complimentary drinks, talks and performances. Booking in advance is strongly advised to avoid queuing at the venue. Lindsay and ink_d very much look forward to welcoming you at stand G12.
Venue: Business Design Centre, 52 Upper Street, London, N1 0QH. Visit the London Art Fair website for helpful travel information.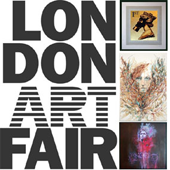 Opening Hours:
Tues 14 Jan (Invited guests / Preview): 3:00pm - 9:00pm
Wed 15 Jan (Photography Focus Day): 11:00am - 9:00pm
Thurs 16 Jan: 11:00am - 9:00pm
Fri 17 Jan: 11:00am - 7:00pm
Sat 18 Jan: 10:00am - 7:00pm
Sun 19 January: 10:00am - 5:00pm
Book Tickets: www.londonartfair.co.uk
The ink_d gallery will continue to be open for the period of the fair in their intimate and unusual gallery space on North Road, Brighton.
Image Credits:
Barbara Hepworth, 'Kneeling Figure', 1932. Rosewood. Courtesy of The Hepworth Wakefield (Wakefield Permanent Art Collection) ©Bowness, Hepworth Estate (photograph: Norman Taylor)
Henry Moore, 'Pit Boys at Pithead', 1942, pencil, pen and ink, wax coloured crayon and watercolour wash on paper. Courtesy of The Hepworth Wakefield (Wakefield Permanent Art Collection, presented by WAAC, 1947). Reproduced by permission of The Henry Moore Foundation (photograph: Norman Taylor)