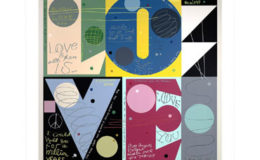 Our Collector's Corner is a treasure trove of highly collectable, awe-inspiring artwork. Things come and go quickly at our Brighton gallery and are snapped up by avid collectors, so call us today on +44 (0)1273 724829
Sir Peter Blake – 'Four Seasons'
A great potential entry-level investment by an iconic hero. This collection of prints is nothing short of wonderful.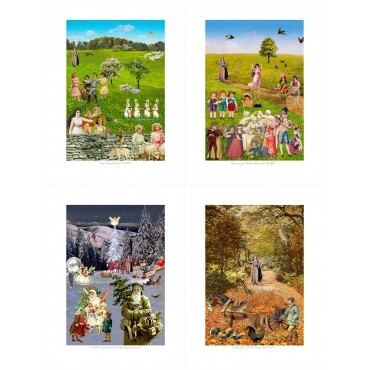 Often called the 'Godfather of British Pop Art', Sir Peter Blake has developed a well-loved style over the last half a century. Best known for the iconic album cover he produced for the Beatles: 'Sergeant Pepper's Lonely Hearts Club Band', Blake's work is inspired by his love affair with icons of popular culture.
Born in 1932 in Dartford, Kent, he studied at Gravesend School of Art before earning a place at the prestigious Royal College of Art London in 1956. The concept of 'found art' was an aspect that excited Blake and the notion of finding beauty within banal everyday objects has been a long-standing muse behind the artwork we see from him today. In 2002 Peter Blake received a knighthood for his services to art and his work continues to bring a contemporary aesthetic with every new piece created.
'Four Seasons' is an uplifting, pop kitsch box set of 4 giclée prints, beautifully depicting each seasonal phase of the year. Spring, Summer, Autumn and Winter feature a panoply of vintage collaged elements – a fantastic mix of Victorian figures, 1950's pin up girls and every vintage icon you can imagine, in between. The character-full prints come alive alongside the intensely saturated, illustrative landscapes, blending into a joyful cocktail of surrealism and tongue-in-cheek irony. All prints are signed by Sir Peter Blake and presented in a bespoke, British Racing Green portfolio box with colophon and title pages.
Call our Brighton Gallery on +44 (0)1273 724829 to get your hands on this fantastic portfolio set.
David Spiller – 'Somewhere Over The Rainbow'
Striking, love-infused scribbles and colourful typography embody this lively silkscreen print from the late, David Spiller.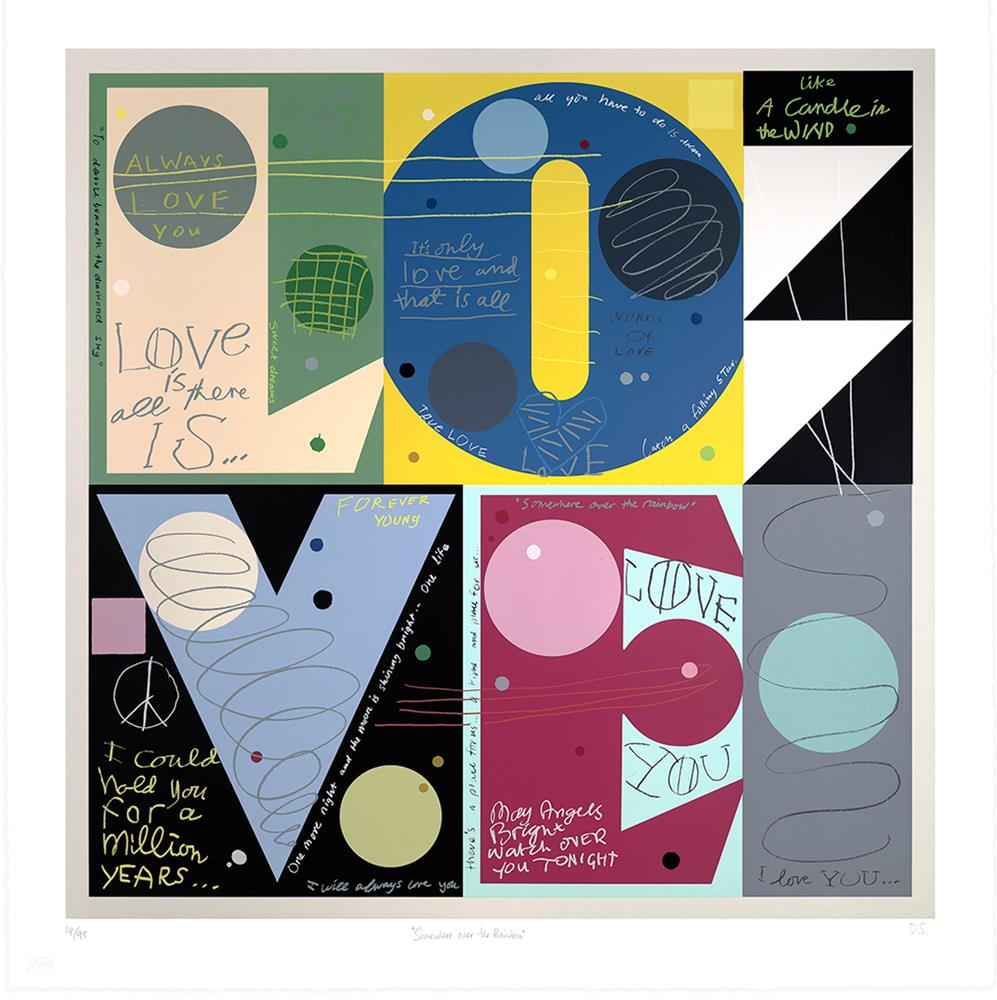 Produced just before he sadly passed away, this pop art print is from a limited edition of 95 and is the last in his portfolio collection that is signed personally. 'Somewhere Over The Rainbow' is a true celebration of all things positive. In one of his last interviews, Spiller explained: "I really want to make paintings that put some magic on the wall. Some of them are straightforward things. Some are wild things. But underneath, it says 'I love you".
This bold and emotive print is unique in its creation. Spiller wanted to produce a new work of art from one of his original paintings. So, the piece started out as a photograph of a painting, of which he then added shapes and colours to the background. Layering on top, he then hand drew onto acetate, preparing screens for the final print. The finished artwork is such a joy to look at and combination of two creative processes – one by artist and the other, by the printer.
Passing in 2018, he was famous for mixing well-known and loved cartoon characters with elements of autobiography, songs, stories and memories. Spiller would often scribble down lines from his favourite songs on his artwork, giving us an insight into his character and personal interests. Over the course of his career, Spiller held many solo exhibitions around the world, gaining a loyal following. His works are now in many private and corporate collections worldwide.
An artist that always warmed our hearts at the gallery, he is missed but his positive messages continue to live on through his uplifting artwork.
Call our Brighton Gallery on +44 (0)1273 724829 for further information on this or any of the other artworks featured in our Collector's Corner.
artrepublic is part of the history of Enter Gallery, find out more.