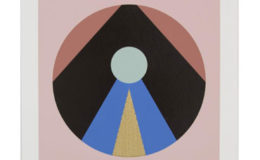 Former fashion designer Cleo Barbour creates intricate prints that combine mechanical and human processes with Art Deco stylings. As her work goes on display as part of our Abstract showcase at our Brighton gallery, she shares some insights into her work and motivations.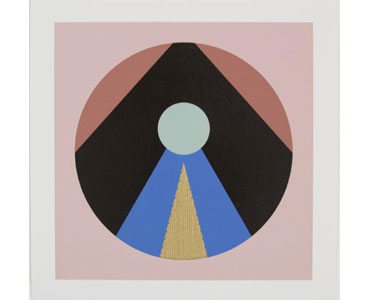 Abstraction, by definition is dealing with ideas rather than events. What kind of ideas do you find yourself dealing with in your work?
CB: My work is lighthearted and designed to give pleasure through beauty and detail. It incorporates a set of signature visual principles that are combined to bring aesthetic pleasure. Through the combination of well-considered shapes and colour palettes I aim to achieve a satisfying feeling of simplicity.
I apply hand-embellished details to my work, which brings further depth and encourages the viewer to engage and consider the process of creation. This detailing also gives the work a sense of being human made – an intentional 'backlash' to our existence in a world that is heavily influenced by mass production and lacking in authenticity.
Abstraction is also a state of preoccupation. In general, what do you find preoccupies you?
CB: I am often preoccupied by society's obsessive relationship with material things and how overconsumption and our throwaway culture is affecting the earth, and causing humans unhappiness. These ideas stem from having worked in the fast-moving fashion world for a decade, with it's superficial inclinations. Since moving away from this industry I find myself wondering what we can individually do to make these issues better and change mindsets.
Nowadays these ideas drive me to consider what I am putting into the world and how it can hold its value. I strive to create authentic and high-quality artwork that is accessible and collectible. I hope and wish that it is treasured and passed down through generations to bring happiness to as many people as possible.
Historically, abstract art was as much about process and materials as it was the outcome. Can you talk us through your usual making process, and the materials you feel an affinity with?
CB: My hand-embellished geometric series takes inspiration from Art Deco patterns and motifs. I design the artworks digitally, experimenting with shapes and colour combinations before the printing process begins. The works are giclée printed first and then treated with various screen-printed glazes to achieve different textures and finishes. I then carefully hand-stitch golden thread to certain parts of the prints.
Hand-embellishing my artworks has provided me with a way of combining my love of embroidery with my signature graphic style. I spent a considerable amount of time honing my technique so that I can flawlessly apply threads onto the delicate paper; the gold stitching adds a special element to the sections of the artwork, creating eye-catching reflections alongside the various glossy and matte textures of the screen prints.
If you could collaborate on a project with anyone – artist/ non-artist, dead or alive – who would it be and why?
CB: My dream collaboration isn't with another artist – I'd love to be given a large wall space within an iconic Art Deco building and asked to create contemporary artwork to suit the space and reflect its history. The challenge would be to find the balance between the traditional detailing of the building and the modern style of my art.
AR: Consider the Cubists as an early-20th century art collective, pushing each other's work forward. Who's in your art gang/ who is your sounding board?
CB: Being quite a new artist, I am still working on my gang. On a daily basis I try to channel a balance between my commercial approach (honed in my fashion days!) and a new, freer attitude that breaks down barriers and allows artistic exploration. These days I am careful who I take advice from, but would like to build up a well-considered gang.