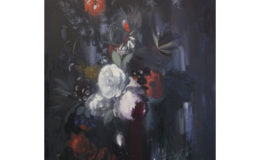 Ritualistic rain dances to Radiohead, via the Dutch Masters – we chat to artist Chris Kettle about the route to creative mastery.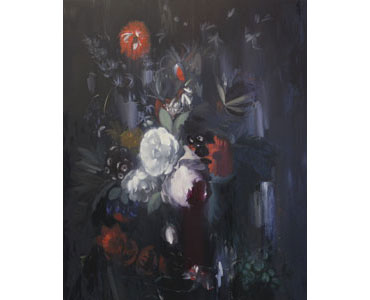 Still life paintings that are charged with light and drama – these are the domain of the original Dutch masters. But Brighton-based artist Chris Kettle has stepped into this traditional territory and made it contemporary, blending his formal scenes' specific details with an energy-filled abstraction that feels playful and leaves something to the imagination. Want to know more about the artist behind these paintings? Read on…
AR: artrepublic's set you up with a cohort of Modern Masters, but which Master – modern or historic, dead or alive, well-known or lesser-known – would you love to exhibit your work alongside?
CK: I'm enjoying the work of the 17th-century Dutch Master Willem Kalf at the moment. Although I'd love to show alongside him it would be pretty daunting as his work has endured and survived for centuries, and still stands up to anything created today.
AR: And what about beyond the art world; who do you think is a master of their industry?
CK: I think Radiohead are true masters of their craft; they're complex, progressive and intangible... and that's the first thing that popped into my head when I heard the question!
AR: Speaking of firsts, what is the first thing you do when you get into your studio space each day?
CK: I'd love to say that I do a ritualistic rain dance in the studio garden, swathed in white linen, welcoming in the creative gods of painting... but back to reality! I have found that cycling (fairly rapidly) to the studio, usually against the wind, clears the mind enough to arrive with a bit of focus; it's a kind of meditation I guess? As soon as I get inside the first ritual is tea (predictable), tune to Radio 6 or 4 (easy), try not to procrastinate (not so easy) ...then paint (dead easy...ahem)
AR: On the days where painting isn't so easy, and you're feeling uninspired, what do you do to regain your creative mojo?
CK: I go back to anything that seems more like fun, in painting terms – such as the paintings I call studies or sketches, which can be more experimental and freer always help spark new ideas and inspiration.
AR: Sounds like a great way to move forward. What is the best piece of advice you were ever given in relation to your work?
CK: Try and ignore any perceived 'competition' with others out there – although that's often easier said than done – it's always distracting. And definitely avoid competitions.
AR: And finally, finish this sentence: When I was little, I always wanted to...
CK: Be a bit bigger.
Chris Kettle is exhibiting his work as part of our Modern Masters exhibition, visit the exhibition, between 13th July to 15th August 2018 at artrepublic Brighton.
Read other interviews by artists taking part in the Modern Masters exhibition:
artrepublic is part of the history of Enter Gallery, find out more.