We are very pleased to announce the return of our annual Art Yard Sale, a day where you can buy art directly from your favourite artists.
Following the huge success of last year's inaugural event, the forthcoming Yard Sale promises to be bigger and better than ever. Market stalls manned by more than 30 of our favourite artists will transform Brighton's Jubilee Square, creating a day-long treasure trove for contemporary and street art fans.
We've got some of the biggest names in the art world taking part this year including Ben Eine, Copyright, Magda Archer, Eelus, Lucy Sparrow, Joe Webb, STATIC, Ryan Callanan and Pure Evil, who will be holding an interactive kids workshop. There will also be a very strong contingent of locally based artists taking part with the likes of Bonnie & Clyde, Maria Rivans, Sara Pope, Veebee, AROE, Mike Edwards and more, giving further merit to the city's position as an important artistic hotspot.
Founder and curator Lindsay Alkin said: "We've been looking forward to this event since last year and can't think of a better way to close Brighton Fringe. Even with bad weather, the first Art Yard Sale was a roaring success, with over a thousand people braving the elements to see the artists in action and grab themselves unique artworks.
"As well as the best local talent, this year we've got some big international artists confirmed. It's a really fantastic opportunity to meet the artists and even commission your own piece of art for a snip of its true value."
Each of the artists taking part will be creating unique, one-off pieces and commissions from their stands. With all art on sale priced between £25-£250, the Art Yard Sale aims to make art more accessible and affordable for all.
PLEASE NOTE: All purchases on the day will be made with specially designed gallery money'. These vouchers can be purchased from the gallery in Bond Street, between 9am and 11am on Sunday 5 June. From 11am, the vouchers will then be available to buy at the event itself. Any unused gallery money can be changed back for cash on the day at the gallery market stall.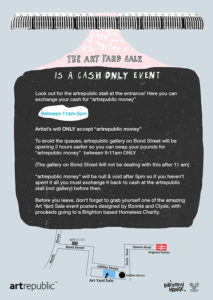 This year's Yard Sale poster has been designed by Brighton based collage artist Bonnie & Clyde, prints of which will be available on the day with proceeds going to a local homeless charity.
The Art Yard Sale will take place from 11am-5pm on Sunday 5 June at Jubilee Square, New Road, Brighton - a short walk from our Bond Street gallery. Last year's event saw a frenzy of limited edition works quickly selling, so get down early to avoid missing out. We can't wait to see you there for what promises to be a truly unforgettable day!