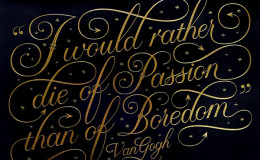 We are very excited to announce that this Friday in our Brighton gallery the cult independent magazine VNA (Very Nearly Almost) will be releasing a special box set collaboration with local artist Seb Lester.
VNA launched back in 2006 as a quarterly publication featuring interviews with the hottest names in urban art, illustration and photography. artrepublic favourites including Dan Hillier, Ben Eine, Shepard Fairey and RETNA have all graced it's hallowed pages in the past, with the magazine also covering all aspects of the art world from stencils on street corners to huge gallery shows.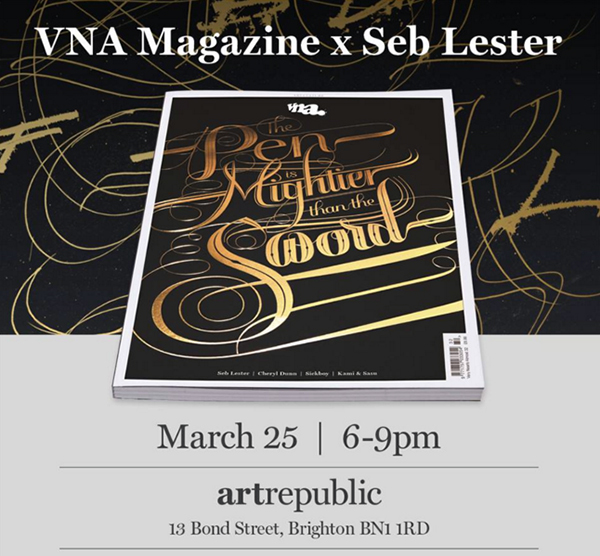 Seb Lester is a Lewes based typographic and calligraphy master, who has gained global recognition through a number of viral videos demonstrating his incredible handwriting skills, the most popular being a video of him drawing famous logos freehand that has racked up nearly six million views! Seb has personally amassed over a million followers across his social media platforms and is also known for creating original artwork, prints and fonts.
'VNA Magazine X Seb Lester' Ltd Edition Box Set launch takes place in our Brighton gallery from 6-9pm on Friday 25th March. The box set on offer includes 'Passion', a new signed, limited edition print along with a silkscreen printed copy of VNA Magazine, issue 33. Seb will be in the gallery signing copies of the magazine, there will also been an Easter egg hunt with a chance to win prizes including bespoke artwork. Come on down to meet the incredible artist for what promises to be a great start to the Easter weekend!
artrepublic is part of the history of Enter Gallery, find out more.