Our Brighton gallery is packed to the rafters with stunning gift ideas from today's finest cutting-edge artists.
Open 7 days a week right up until Christmas Eve.
Here is just a small selection from the hundreds of incredible prints in our Brighton gallery.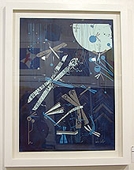 Graham Carter has built up quite a following over the last few years and with work as good as this it is easy to see why. 'Dragonfly' (Blue) is a beautiful hand finished silkscreen produced on thick board and the last one left from tiny edition of 11 artist proofs. This fantastic limited edition is float mounted in a bespoke hand painted white box frame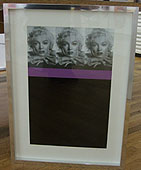 'Marilyn Monroe, Black' is a 16 colour silkscreen with diamond dust and 1 high gloss glaze is based on a 1990 original of the same name. The original was made up of photographs and enamel paint on wood and was part of a series titled In Homage to Marilyn Monroe. Peter Blake has taken the opportunity in the silkscreen both to lighten the band of colour (which is a dark purple in the early work) and to add diamond dust to Marilyn's jewellery.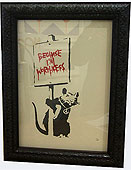 We have some great hard to find Banksy prints in our Brighton gallery. Including 'Because I'm Worthless' a silkscreen numbered edition of 175. It comes framed in an ornate cocoa coloured frame which is boxed (so print and glass do not touch), float mounted on acid free mount board and covered with UV glass.
If you want further information on any of our recommendations please call the gallery on +44 (0)1273 724 829.
If you can tear yourself away from the array of fabulous limited edition prints on the walls we also offer a framing service, spending time with you to pick out a perfectly matched mount and moulding. Bring anything you need framed as a gift and our team of experts will be happy to help.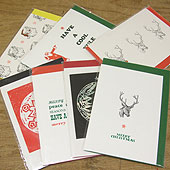 artrepublic gift vouchers - ideal if you'd prefer them to choose
An artrepublic gift voucher is the perfect solution if you are unsure exactly what they might like. Available in denominations of £5 up to any amount you wish. The vouchers can be redeemed in both our London and Brighton galleries, so it's also a great excuse for them to arrange a trip to the big city or the coast in 2009! To purchase call into our Brighton gallery or phone on +44 (0)1273 724 829
If you want further information on any of our recommendations please call the gallery on +44 (0)1273 724 829.
artrepublic is part of the history of Enter Gallery, find out more.