A timeline of our favourite moments…
2003
James Cauty's Stamps of Mass Destruction
Lawrence's career is defined by his lack of fear when it comes to being provocative. In whatever guise, all of Lawrence's galleries have prioritised provoking emotions, whether good or bad.

No time was this attitude more apparent than back in 2003, when Lawrence made headlines for selling anarchist artist, James Cauty's, Black Smoke: Stamps of Mass Destruction Legacy Set. This series of three silkscreen prints depicted stamps featuring the usual image of the Queen, doctored so she was wearing a gas mask beneath her crown.
2004
Pop Show
Back in 2004, Lawrence held 'Pop' – one of the first urban art gallery shows of its kind. The show ran for three weeks and featured work from various anti-establishment artists, including James Cauty, Jamie Reid, and Banksy. In fact, the event was one of the first to showcase the work of the mysterious street artist who would go on to take over the art world.

The Pop show was a major turning point for the gallery, not only becoming a springboard for selling thousands of Banksy pieces, but also in shaping the gallery's support of provocative art, its eye for spotting new talent, and prioritising group shows that bring people together and getting people interested in art.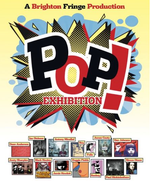 2007 and 2010
Banksy prints stolen
After launching Banksy onto the international scene in the 2004 Pop Show, Lawrence and his galleries soon got a little unwanted attention for stocking the highly sought-after works of art…in the form of people who had no intention of paying.

In 2007, ten prints worth £10,000 were stolen from the Brighton gallery. Two thieves struck in two separate late night robberies, smashing their way into the gallery on Bond Street and making away with pieces including, Gangsta Rat, Welcome to Hell, Virgin Mary, Morons, Jack & Jill, and Napalm.
In the 2010 smash and grab, two thieves (the man and woman pictured above) used a street sign to smash through the gallery window and got away with two pieces, Happy Choppers and Nola (Grey Rain) worth a collective £16,000.
2007
Portslade Massif
2007 was a strong year for artistic controversy on the streets of Brighton, again courtesy of Lawrence and James Cauty. This time, Cauty's The Rize and Fall of the Portslade Massif show took place at Ink'd – Lawrence's exhibition focused gallery which used to be located on North Street.

To publicise the show, the artist daubed 'Portslade Massif' on the front of the gallery in white emulsion. Later that same night, the council mistook the art for vandalism, and amid fears it might spark gang violence, they cleaned off the slogan as the city slept.

The council's move hit the headlines, as far afield as The New York Times, as critics debated the difference between art and vandalism.
2012
Lawrence featuring on The Apprentice
Back in 2012, Lawrence was invited on to The Apprentice's sister show, The Apprentice: You're Fired, presented by Dara O'Brien.
That week on Alan Sugar's infamous series, the teams were tasked with co-ordinating a Pop-Up gallery showcase for artists like Pure Evil and Copyright, and Lawrence was there to offer his expert opinion on how they performed. You can watch his critique here.
2013
Rare Kate Moss Photographs
In 2013, Lawrence got his hands on some never-before-seen photographs of the world's most iconic supermodel –Kate Moss. The photos were from Moss's very first test shoot with photographer, David Ross, when she was just 14 and taking her first steps into the world of modelling. The show, entitled Kate Moss: Roll 1, was front-page news on The Times and The Guardian, and featured in Vogue, Harper's Bazaar, The Telegraph, The Independent, The Daily Mail, Marie Claire and The Sun.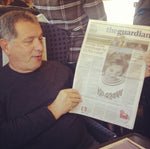 2015
The Inaugural Art Yard Sale
In 2015, we held our very first Art Yard Sale. A community event that takes place as part of Brighton Fringe, the Art Yard Sale sees Enter Gallery artists manning their own market stalls and selling their art directly to the public. The event attracts art lovers from all around, with hundreds flocking to Brighton's Jubilee Square to get their mitts on rare pieces, originals, and hand-finished works in one raucous day of great art and conversation. The event has now been running for seven successful years, and long may it continue.
2017
Extending our offering
The year we celebrated our 25th anniversary was a big one for Enter Gallery. We kicked off the year by doubling the size of our Bond Street gallery. With the added space came a brand new events calendar, highlights included launching our first Kids Club (which is still going strong), hosting screen printing evenings with The Private Press, holding solo exhibitions from the likes of Bruce McLean, and an album launch for drum & bass legend, Friction. It was also the year we launched Enter Gallery's podcast, Art Related Noise.
2017
Fatboy Slim performs at Enter Gallery
Brighton legends don't come bigger than Fatboy Slim, and we were delighted to have him perform at Enter Gallery's 25th anniversary party. On the night, we launched Brighton-based artist, Mark Vessey's Collections piece, Norman, which depicted the superstar DJs favourite records. The print became Enter Gallery's fastest-selling limited edition to date, and the party saw revellers spilling out into the streets and Cook allowing guests a turn on his decks.
2020
Enter Gallery Rebrand
In 2020, we decided it was time for a change and rebranded as Enter Gallery. We chose this new name to reflect the inclusive ethos of the gallery, and our belief that art should be for everyone. By prioritising community events, kindness and a sincere appreciation of art, we hope that everyone will feel welcome to visit us at Enter Gallery.